Yoga with balls Classes
Yoga with balls focuses mainly on self-massaging techniques that use therapeutic balls to release tension in the muscles, improve the mobility and flexibility of articulations, and relieve pain. It promotes a sense of relaxation through deep tissue massage.* *Mandatory therapeutic ball kits (2) are sold in Nautilus Plus centres.
Opt for virtual group classes with Karine Larose's DVDs.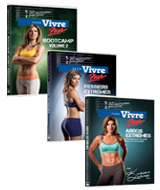 Choose from our wide selection of varied workout DVDs from the ''30 minutes par jour pour vivre plus'' collection! Alone or in a group, when the room is available, go to the front desk to register.
*Please note that the DVDs are available in French only.
GROUP CLASSES