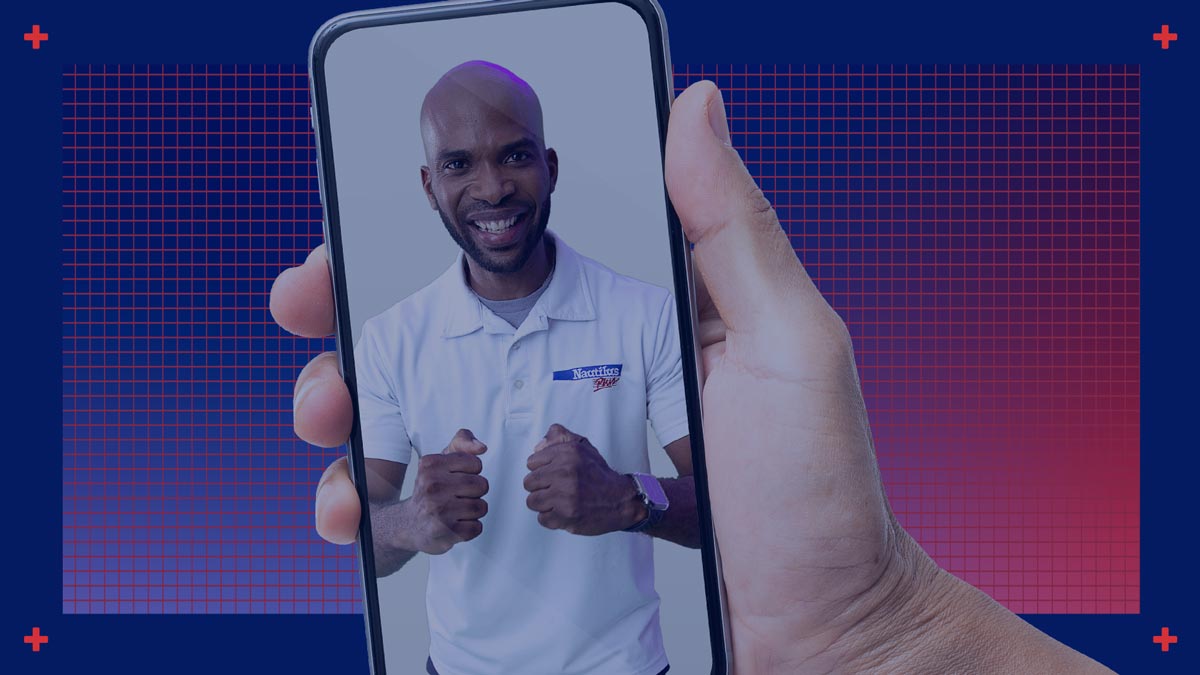 ONLINE COACHING SERVICES
Training and Nutrition
Whether it is to create a home workout plan with the accessories at your disposal or to receive healthy eating advice without sacrificing the pleasure of food, discover our online coaching services!
ALREADY HAVE SESSIONS IN YOUR FILE?
Log in now!
ACCESSIBLE WHENEVER AND WHEREVER YOU WANT

Live video consultation with your personal trainer or nutritionist at the place and time that best suits your lifestyle and without having to travel. Nautilus Plus membership not required to join.

UNIVERSITY-EDUCATED PROFESSIONALS

All our personal trainers hold a university degree or are in the process of graduating. Our nutritionists hold a bachelor's degree in nutrition recognized by the Ordre professionnel des diététistes du Québec (OPDQ).

VAST SELECTION OF COACHING SERVICES PACKAGE

Choose the number of sessions from the available packages (1 to 10 sessions) depending on the type of follow-up and frequency desired. Prices start at $39 per session.
PRICES
PERSONAL TRAINER

30 MINUTES

$ 42,50*

60 MINUTES

$ 65*

nutritionist

30 MINUTES

$ 61,75

60 MINUTES

$ 95
SPECIAL PACKAGE RATES AVAILABLE
Possibility of obtaining an insurance receipt for kinesiology (members of the FKQ) and nutrition services (members of the OPDQ).
*30 minute session starting at $42.50 and 60 minute session starting at $65 depending on the trainer's level. Taxes not included.
3 SIMPLE STEPS
1

Choose your professional

2

Schedule your first session

3

Complete your session with your professional
REQUIREMENTS FOR YOUR ONLINE SESSION
HIGH SPEED INTERNET
To use the online coaching service, we recommend having access to a high-quality internet connection.
CONNECTING TO YOUR SESSION
5 minutes before the time of your appointment, you will receive an email from Nautilus Plus with a link to start the video session. Click on it, at the scheduled time, to start your session.
TRAINING ENVIRONMENT
For personal training sessions, make sure you have enough space to easily perform the exercises (8 ft X 8 ft or 2.4 m X 2.4 m should be enough).
COACHING ONLINE PLATFORM
When you subscribe, an account is automatically created giving you access to the Nautilus Plus online customer coaching platform powered by Hexfit. You will receive an email to activate the account. Through the platform, your personal trainer and nutritionist can now prescribe your training and nutrition plans. You can access your new plan at any time following your session. You can also enter your training data, follow your progress, and even connect your activity tracker (Polar, Fitbit, Garmin, etc.) and sync your results.