Zumba® Toning Classes
NEW! The Zumba® Toning group exercise class raises the bar (or rather, the toning stick) when it comes to body sculpting. Learn how to use lightweight, maraca-like Toning Sticks to enhance rhythm and tone all the target zones, including arms, abs and thighs. Zumba® Toning is the perfect way to sculpt your body naturally while having a total blast.
Opt for virtual group classes with Karine Larose's DVDs.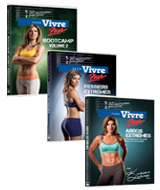 Choose from our wide selection of varied workout DVDs from the ''30 minutes par jour pour vivre plus'' collection! Alone or in a group, when the room is available, go to the front desk to register.
*Please note that the DVDs are available in French only.
GROUP CLASSES