Zen Fusion Fit Classes
This 45-minute class, given exclusively at Nautilus Plus, combines Yoga / Pilates / Stretching with meditation. Karine Larose has designed Zen Fusion Fit to loosen and strengthen muscles through posture and exercise as well as to calm the mind with its final meditation. The goal is to relax the body and the mind by reaching a state of inner peace. This class is for all levels of fitness. Namaste!
Opt for virtual group classes with Karine Larose's DVDs.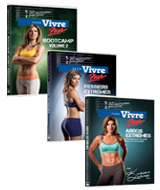 Choose from our wide selection of varied workout DVDs from the ''30 minutes par jour pour vivre plus'' collection! Alone or in a group, when the room is available, go to the front desk to register.
*Please note that the DVDs are available in French only.
GROUP CLASSES