Pilates Classes
The Pilates group exercise class uses a training technique originating in ballet. Strengthen your deep abdominal and back muscles using slow, controlled movements. Over and above its strengthening powers, the Pilates method allows you to develop flexibility, concentration, coordination, precision of movement, and most of all, a great posture.
Opt for virtual group classes with Karine Larose's DVDs.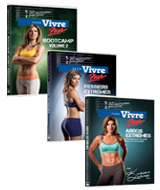 Choose from our wide selection of varied workout DVDs from the ''30 minutes par jour pour vivre plus'' collection! Alone or in a group, when the room is available, go to the front desk to register.
*Please note that the DVDs are available in French only.
GROUP CLASSES