Lower body Classes
This 30-minute class is completely dedicated to strengthening the muscles of the lower body: legs, glutes, thighs, calves and abdominals. 24 different exercises are performed and each exercise is performed for 45 seconds, followed by 15 second rest period. Various intensity options are offered to ensure optimal progression and results. The television is used to display the timer. All fitness levels are welcome.
Opt for virtual group classes with Karine Larose's DVDs.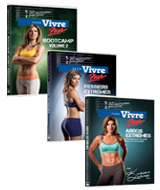 Choose from our wide selection of varied workout DVDs from the ''30 minutes par jour pour vivre plus'' collection! Alone or in a group, when the room is available, go to the front desk to register.
*Please note that the DVDs are available in French only.
GROUP CLASSES