Group Classes
We offer a quasi unlimited selection of group classes for all fitness levels and tastes throughout the day. If you're alone or with some other people you can opt to follow the DVD classes, hosted by Karine Larose. You can also join one of the scheduled group classes animated by a qualified instructor .
Registration required. A minimum of 12 participants is required throughout the session to maintain the class. All group classes are included in the membership except for group cycling.
Opt for virtual group classes with Karine Larose's DVDs.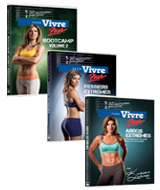 Choose from our wide selection of varied workout DVDs from the ''30 minutes par jour pour vivre plus'' collection! Alone or in a group, when the room is available, go to the front desk to register.
*Please note that the DVDs are available in French only.
GROUP CLASSES