Zumba® Classes
The Zumba® group exercise class is particularly festive! A cross between fitness, entertainment, Latin and aerobic dance, this class is lots of fun. Zumba Fitness provides the music and choreography.
Opt for virtual group classes with Karine Larose's DVDs.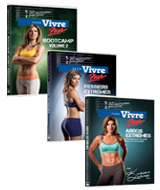 Choose from our wide selection of varied workout DVDs from the ''30 minutes par jour pour vivre plus'' collection! Alone or in a group, when the room is available, go to the front desk to register.
*Please note that the DVDs are available in French only.
GROUP CLASSES