The best group exercise classes in line with your objective
The best group exercise classes in line with your objective
January 31, 2019 - By Karine Larose, M.Sc.

5 minutes
Before I decided to study physical activity and before working at Nautilus Plus, I started working out by taking part in group exercise classes with my mom and my sister at the Nautilus Plus in Chomedey. We did aerobics and Step classes, and Tae Bo® was just starting to become popular!
For me, it was a very pleasant way to exercise! We loved our instructor, the music was great, the atmosphere at every class reminded us that exercise could be enjoyable and that was enough to keep us coming back week after week!
These days, not only do group exercise classes still exist, but the variety is so vast and are, in my opinion, an essent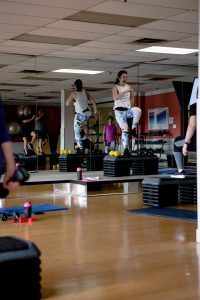 ial part of any workout routine. It's simply a matter of discovering what you like and what answers your needs.
So, what's your objective?
You want to let off steam and increase the intensity without having to learn choreographed routines and your short on time?
I have two workouts that answer your needs : Tabata Fit and group cycling.
Tabata Fit is a high intensity interval training method. Each Tabata consists of 20 seconds of very high intensity exercise, followed by a 10-second break. This is repeated 8 times back-to-back. Once the first Tabata is complete, there is a one minute rest period and then the second Tabata begins. This goes on for 30 minutes. You will notice quite quickly how effective a 30 minute workout can be!
Group cycling classes are very intense but easy to follow. The level of intensity can however be adjusted by each individual. The instructor will add his or her personal touch which makes each class unique. You're welcome to try it!
You need to work off some stress and take a mental health break in order to refocus? You have zero flexibility?
Contrary to what you may think, yoga is for you!
Whether it's in the form of Zen Fusion Fit, which combines yoga and meditation, or a regular yoga class, this discipline offers the perfect opportunity to stop and take some time to concentrate on your breathing (which we often do not do!), while in yoga poses that unwind and relax areas of the body that are tense and often contribute to pain and discomfort. I believe that yoga and meditation are a must to help you regain some balance.
You want to lose weight, tone up and want the best exercise class to make it happen?
In that case, there is no shortage of options. You do, however, need to ensure that the content of the class includes exercises that train all muscle groups and work both muscular and cardiovascular systems. This will allow you to generate maximum calorie expenditure during the class as well as rev up post-workout calorie burning.
Bootcamp, Athletic Circuit, Cardio Toning, Cardio Intervals or Power Fit are all effective options. By design, Power Fit will improve your muscular and cardiovascular systems by completing a series of different exercises for one minute each. This concept, exclusive to Nautilus Plus, is a sure-fire way to reach your fitness and weight loss goals.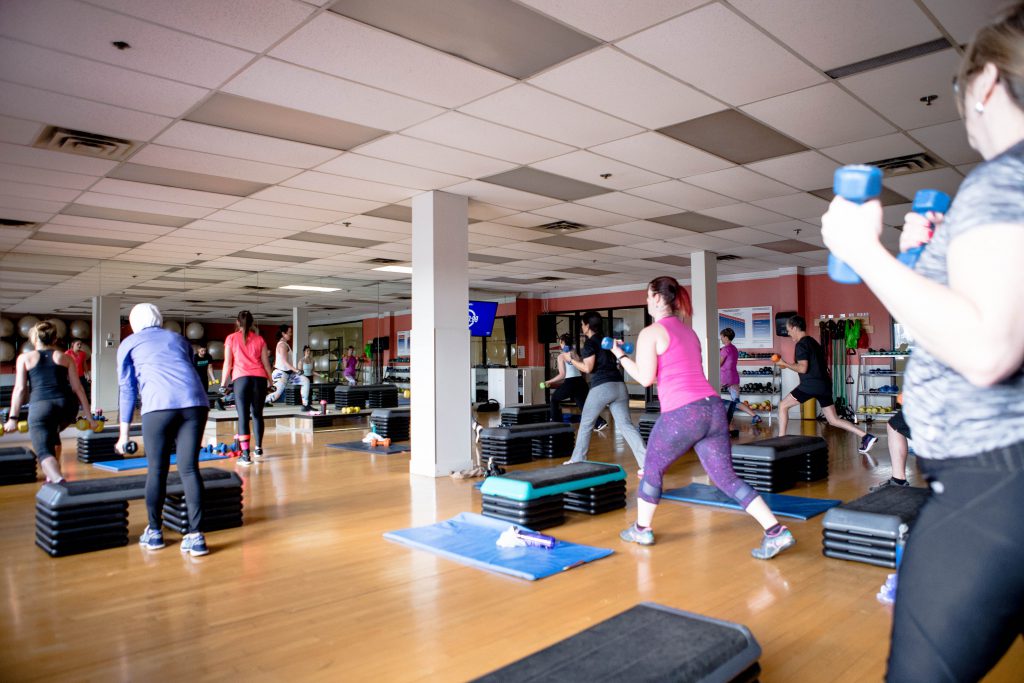 You don't like working out? You like to dance and have fun?
Easy peasy : Zumba and Cardio Dance are two fun ways to let your backbone slip!
You've heard of Zumba but you're not quite sure what to expect? You don't move like Jagger? Not a problem. Zumba allows even the novice dancer to follow the rhythm without too much trouble! One thing's for sure, the time will fly by: your eyes will be peeled for signals from your instructor and you'll have no choice but to concentrate on the steps in order to avoid colliding with the people next to you!!! The music will not disappoint…to try it is to like it! As for Cardio Dance, it includes more conventional dance steps that are inspired by the traditional aerobic moves dictated by the style of music chosen by the instructor.
You're a beginner when it comes to working out and you don't know where to start?
Go with what you like. Talk to some staff members so they may suggest certain classes according to your objectives and level. They know their instructors and may even introduce you before your first class. Nothing better than feeling welcomed and well received when joining a group.
The Karine Larose Tour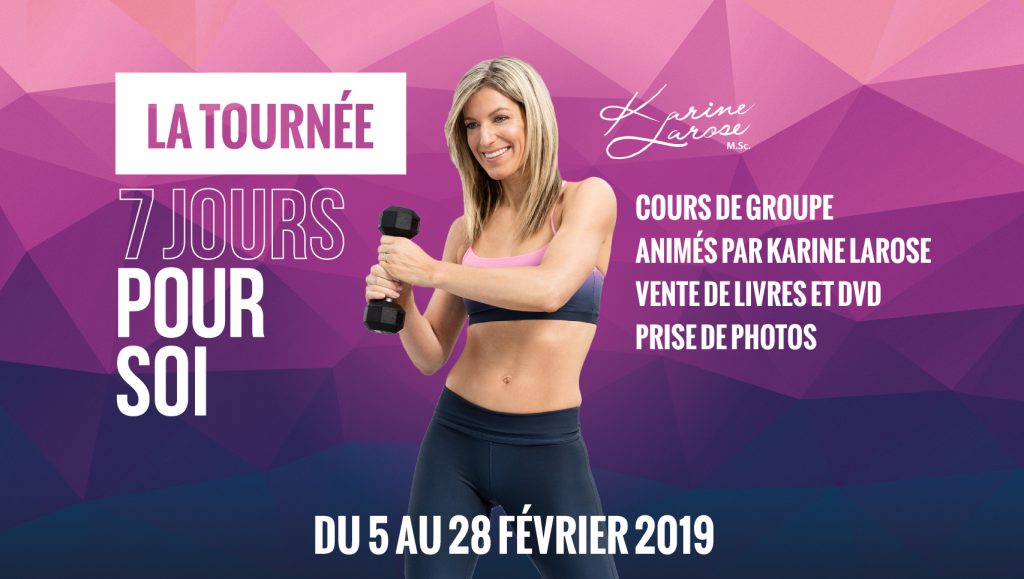 I invite you to join in during my February Tour taking place in 11 Nautilus Plus locations in our network. It's a great opportunity to discover group exercise classes. I will be giving a strength training/cardio class that is suitable for all levels. Take a look at the tour schedule and make sure you reserve your spot. This event is offered free of charge to members and non-members alike. Look forward to seeing you!
7 free days at Nautilus Plus
Last but not least, Nautilus Plus is also offering a 7 day free trial so you can try other group exercise classes at the Nautilus Plus center of your choice. Click here to download your coupon.
The best group exercise classes in line with your objective is a post from Nautilus Plus. The Nautilus Plus blog aims to help people in their journey to fitness through articles on training, nutrition, motivation, exercise and healthy recipes.
Copyright © Nautilus Plus 2019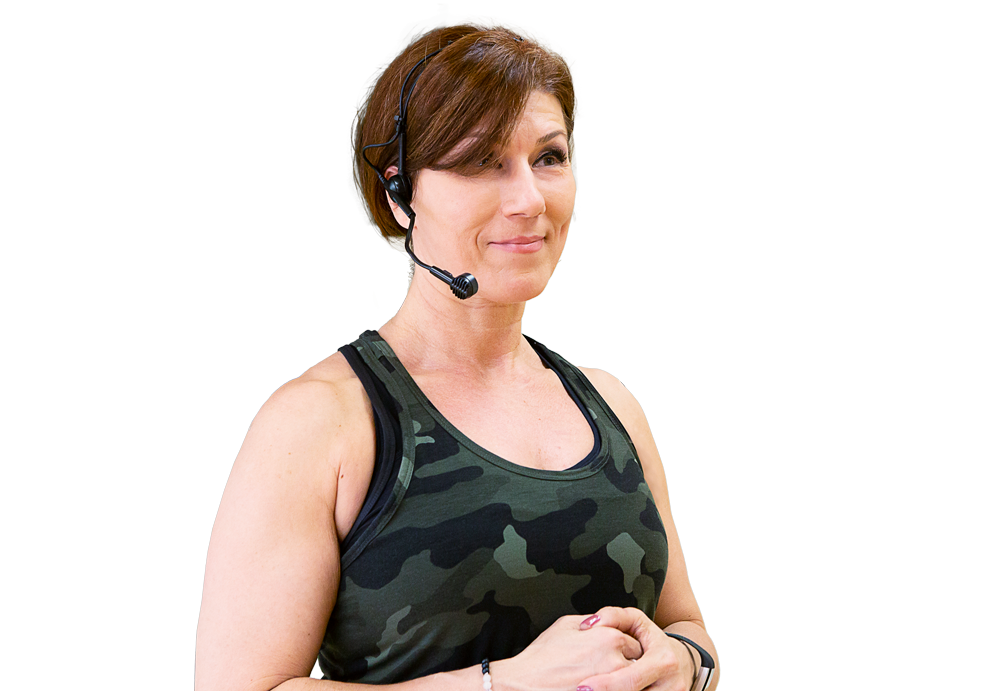 Work out in a group for more motivation!

A wide range of classes for all tastes and fitness levels led by our experienced instructors!
View group classes
Articles in the same category