Is There Such a Thing as a Miracle Pill?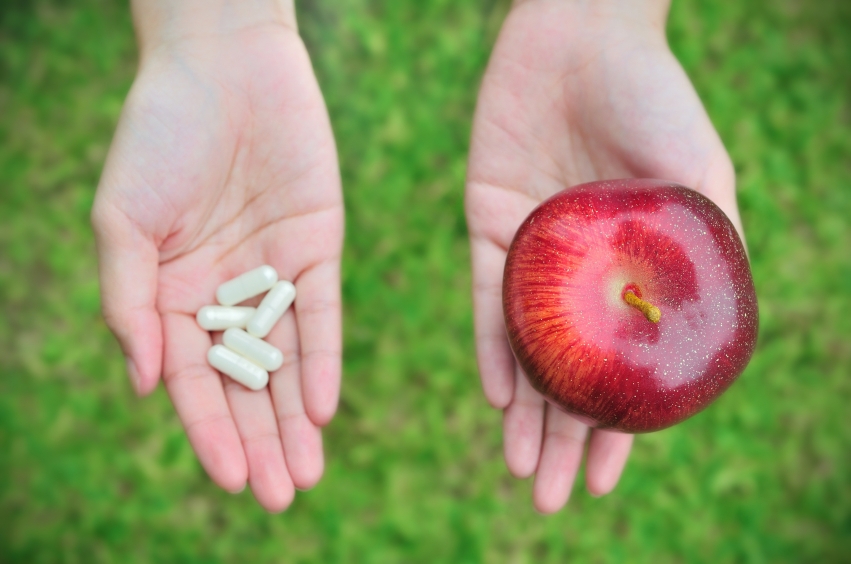 We are all tempted to go the easy way, especially when it comes to weight loss, and the weight loss industry knows it. According to them, taking a small pill every day is enough to get back in shape and have a slim, chiselled silhouette, with little to no time or effort. Have you ever wondered about how these products work, and the effects they have on our bodies?
Laxatives (ex : Ventre Plat, Extra, Internal Flush, etc.)
These products contain herbal substances such as aloes, cascara sagrada root, senna extract, or ricin oil, all of which stimulate intestinal contractions and increase the elimination of water. When the body flushes out a lot of liquid, it releases minerals as well, such as salt and potassium, which play a role in the control of blood pressure and heart rate. The results are side effects such as: bloating, stomach ache, diarrhea, tiredness, and feelings of weakness. One thing is for sure, the numbers on the scale might be lower, but the lost weight is from water, not fat! As soon as you discontinue using these laxatives, you will regain the flushed water in a matter of days.
Fat burners (ex : Slimquick, NV, Xenadrine Ultra, etc.)
Coffee or green tea extracts (caffeine), bitter orange zest (synephrine), ma huang (ephedrine), and yerba mate are examples of the numerous natural stimulants found in these products. They are said to increase the metabolism and energy expenditure and act as "fat burners". However, the doses contained in these capsules are often too low to have a significant effect on weight loss.1 At higher doses, however, these products are dangerous and cause adverse effects such as high blood pressure, shaking, insomnia, or even a CVA (cerebrovascular accident) or a heart attack. Be careful!
Appetite suppressants (ex : PGX, Lichi Super Fruit, etc.)
These products contain water-soluble fibers (often konjac root, also called glucomannan), which expand upon contact with water. It is often recommended that these tablets be taken with a lot of water to make their transit through the esophagus easier, until they reach and fill the stomach. They can help to control cravings and lower servings. However, they do not fix the problem at its root (for example, eating to relax, to have something to do, to calm down, etc.).
In my opinion, a safe and lasting weight loss can only be realized by adopting a healthy lifestyle. Laxatives, fat burners, and appetite suppressants can only be used as a temporary crutch. Remember that if there were such a thing as a miracle pill, we would know about it! The fact that the weight loss products industry is growing at the same rate as obesity proves it.1
By Vanessa Martin
References
1. INSPQ (mars 2008). « Bénéfices, risques et encadrement associés à l'utilisation des PSMA ». Internet. http://www.inspq.qc.ca/pdf/publications/763_rapport_psma.pdfé. Consulté le 31 août 2012.
2. Santé Canada (avril 2007). « Utilisation sécuritaire de produits de santé amaigrissants ». Internet. http://www.hc-sc.gc.ca/hl-vs/iyh-vsv/med/weight-amaigr-fra.php. Consulté le 31 août 2012.