Banana, blueberry and honey crepes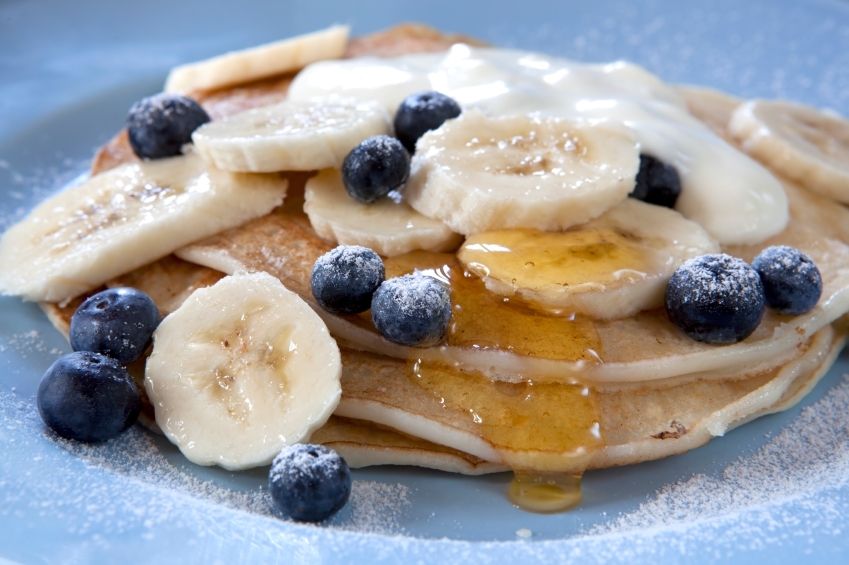 Crepes. They are so versatile. You can serve them for brunch or just as easily prepare them in advance and serve them for breakfast on a hectic weekday morning. But this time, we forget about the maple syrop and replace it with a delicious Greek yogurt/honey mixture. A sweet and healthy touch !
Yield : 6 portions or 12 crepes
Calories: 350 | Carbs: 55g | Fat: 8g | Protein : 7g
Ingredients
1 cup whole wheat flour
1 cup oat flakes
1 tablespoon baking powder
pinch of salt
1 egg
1 tablespoon honey
1 ½ cups skim milk
1 banana, sliced
1 cup blueberries
10ml canola oil for cooking
Honey yogurt
360ml fat free Greek yogurt
4 tablespoons honey
(blend these 2 ingredients together…set aside)
Accompaniment
30g Light Gouda cheese
Preparation
In a bowl, combine flour, oats, baking powder, salt, egg and honey. Gradually add in the milk and stir until mixture is smooth.
Heat the oil in a griddle or frying pan over medium heat. Pour or scoop the batter onto the pan, using approximately 1/4 cup for each crepe. Tilt the pan with a circular motion so that the batter coats the surface evenly making 4 inch rounds.
Cook the crepe for about 2 minutes, until the bottom is light brown. Loosen with a spatula, turn and cook the other side. Continue process with rest of mixture.
Garnish crepes (2 per person) with banana slices, blueberries and yogurt/honey mixture. Serve with a piece of Gouda cheese.
*(The nutritional values per portion have been calculated for : 2 crepes, 60 ml yogurt/honey mixture and a piece of light cheese)
By Karine Larose