Thai shrimp salad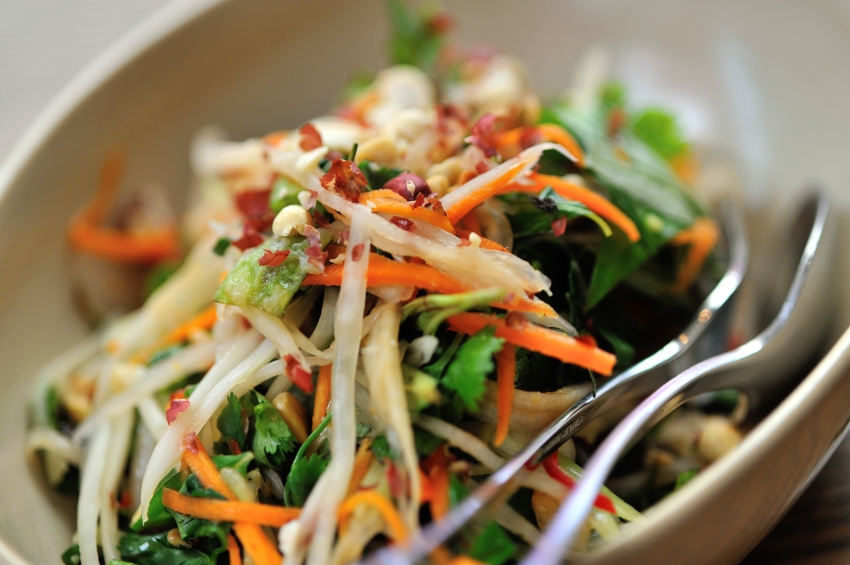 I am suggesting you a simple, easy-to-prepare meal idea that can be brought for lunch! This Thai shrimp salad recipe is full of flavours. You will appreciate its taste, and, in addition, you will have your fill!
2 servings
Preparation time : 15 minutes
Cooking time : 5 minutes
Ingredients
Dressing
Zest and juice from a lime
2 tablespoons rice vinegar
1 tablespoon fish sauce
2 teaspoon sesame oil
1 tablespoon low-sodium soya sauce
1 teaspoon sugar
½ teaspoon hot pepper flakes
½ garlic clove, chopped
Salad
180 g raw shrimps, shells and tails peeled
1 teaspoon olive oil
1 red pepper, cubed
½ cup carrots, grated
1 cup bean sprouts
5 cups mixed salad
2 tablespoons peanuts, chopped
2 tablespoons cilantro, chopped
Salt and pepper, to taste
Sidedish (per person)
½ pita bread
Directions
In a small bowl, mix all the dressing ingredients. Set aside.
In a pan, grill the shrimps in olive oil. Add salt and pepper. Cook for about 2 minutes on each side. Set aside.
In a large salad bowl, mix the red pepper, carrots, bean sprouts, mixed salad, peanuts, and cilantro. Add the dressing and garnish with the shrimps.
Nutritional values per serving: 469 calories, 50g carbs, 17g fat, 33g proteins
Did you like the flavours of this Thai shrimp salad? You will certainly like this Chicken and Shrimp Pad Thai!