Spicy Chicken Burger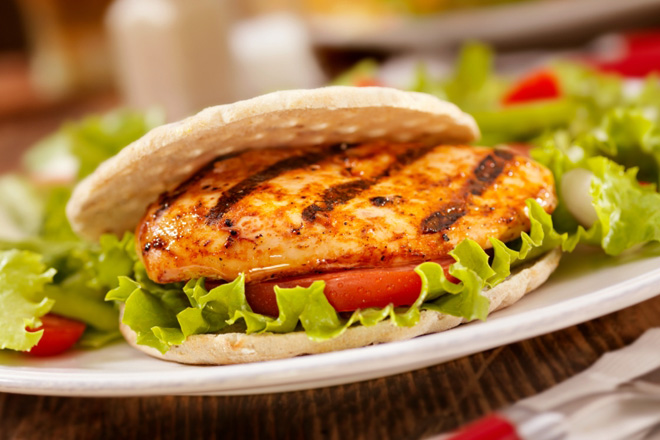 Fall may be knocking at our doors, but you can still enjoy your barbecue! If temperature allows it, there is no reason not to! Try this spicy chicken burger recipe on a special occasion or a family dinner!
4 servings
Per serving: 363 calories/35 g carbs/14,5g fat/25g protein
Ingredients
15 ml (1 tablespoon) paprika
5 ml (1 teaspoon) garlic powder
5 ml (1 teaspoon) coriander seeds, ground
5 ml (1 teaspoon) brown sugar
5 ml (1 teaspoon) ginger powder
2,5 ml (1/2 teaspoon) chili pepper powder
2 (180 g each) chicken breasts, cut in half
Salt and pepper, to taste
Spicy sauce
30 ml (2 tablespoon) light mayonnaise
30 ml (2 tablespoon) 0 % fat Greek yogurt
5 ml (1 teaspoon) Sriracha sauce *spicy asian sauce
Hamburger seasoning (per burger)
1 whole wheat small hamburger bun
2 red onion slices
1 lettuce leaf
1 tomato slice
And as a side dish, why not prepare a mixed salad or our healthy creamy coleslaw?
Directions
1. Preheat barbecue to medium-high.
2. In a bowl, mix the mayonnaise, yogurt, and Sriracha sauce. Set aside in the refrigerator.
3. In another bowl, mix all the spices and add the chicken. Cook on the barbecue for about 5 minutes on each side. Grill the buns at the last minute.
4. Add the seasonings of your choice (onion, lettuce, tomato, etc.).
By Karine Larose