Pesto pastas with chicken and grilled vegetables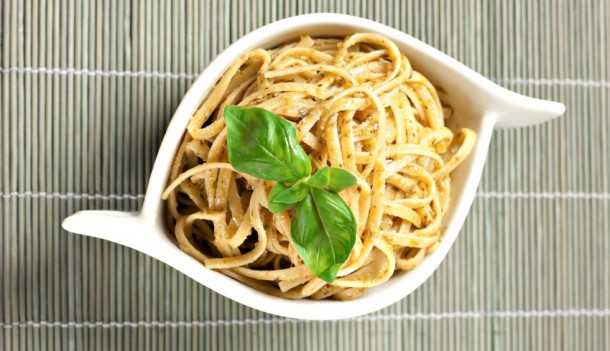 Forget the traditional meat sauce spaghetti and trade it for this delicious pesto pastas recipe. Although we suggest that you use whole wheat spaghettis, you can also make this recipe with your favourite pastas! You will certainly like this healthy dish!
4 servings
Preparation time : 15 minutes
Cooking time : 15-20 minutes
Ingredients
30 ml (2 tablespoons) olive oil
400 g skinless chicken breast, cut in slices
½ red onion, chopped
2 garlic cloves, chopped
½ aubergine, peeled and cubed
1 sweet red pepper, seeded and cubed
1 zucchini, sliced into rings
10 asparagus, cut in pieces
1 liter (4 cups) water
170 g whole wheat spaghetti, dry
30 ml (2 tablespoons) store bought basil pesto
60 ml (¼ cup) cooking water
8 fresh basil leaves, finely chopped
Salt and pepper, to taste
Directions
In a pan, heat the oil and add the chicken slices, onion, and garlic. Cook for about 2 minutes while stirring. Add the aubergine, sweet red pepper, zucchini, and asparagus. Add salt and pepper. Continue cooking for about 15 minutes.
In a large pot, bring the water to a boil and cook the pastas according to the instructions on the box. Cook until desired doneness. Set aside ¼ of the cooking water.
When the pastas are ready, add the vegetables, pesto, and cooking water. Cook for 1 minute while stirring in order to heat the mix properly.
Garnish with basil leaves.
Do you like pesto pastas? Try this slightly different recipe of Pesto, prosciutto and mushrooms spaghetti.
Nutritional values per serving : 421 calories, 75g carbs, 10g fat, 16g protein