An introduction to jogging / running
An introduction to jogging / running
June 3, 2019 - By Karine Larose, M.Sc.

4 minutes
Spring is finally here! People jogging outside is a common site and maybe you've asked yourself « why not me? ». Although jogging is an activity that is easily accessible, if you don't start slowly and if you don't have a plan, your motivation can quickly change to disappointment…not to mention cause injuries that can plague you for weeks or even months!
I'm don't mean to be an alarmist. What I want to do is encourage you to plan a strategy so that your jogging experience be a good and lasting one!
In short, here are my 3 winning strategies :
Have a plan : follow a schedule
For effectiveness, success and safety, consult a kinesiologist
To stay motivated, join a running club
A jogging / running training calendar
I am suggesting a 15 week training calendar for your introduction to jogging. You will immediately notice that you don't become a distance runner/jogger overnight. A number of steps must be followed, gradually, in order to make progress and to give your body a chance to adapt to the physical demands and avoid injury.
Tempting as it may be to follow my suggested calendar to the letter, please note that it should be used as a guideline and not a rule. It is important to go at your own pace and adapt this calendar to your physical condition and your personal objectives.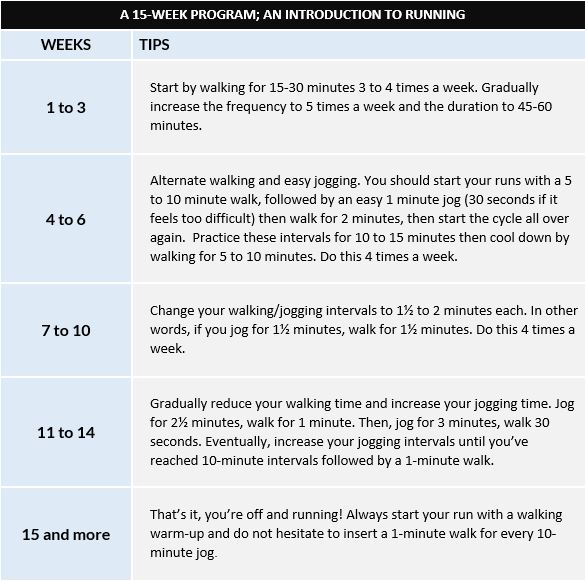 The help of a jogging / running professional
Knee problems? You're active and you've jogged in the past? You're wondering what stretching and toning exercises you should be doing to make your jogging outings a success? You're wondering if you shouldn't skip a few steps because you're in a better physical condition? You clearly have to listen to your body and take longer rest periods if you feel the need and accelerate the pace if you feel you can. However, we do not want physical discomfort to become an injury. All these questions are not only pertinent, they are also one of the reasons why consulting a professional besomes so important!
The optimal strategy is to start where YOU ARE in order to get where YOU WANT TO BE. This is where consulting a Nautilus Plus kinesiologist becomes a wise choice. In making his first evaluation, the kinesiologist will be able to put together a training calendar according to your injuries, your history and your objectives.
When accompanied by a professional, there is less wasted time, less chance of injury, a better chance of improvement, etc. Essentially, he will put your mind at ease. He will also be able to clearly define the nature of each outing : duration, intensity, as well as types and frequency of runs. The question of your running technique can also be addressed.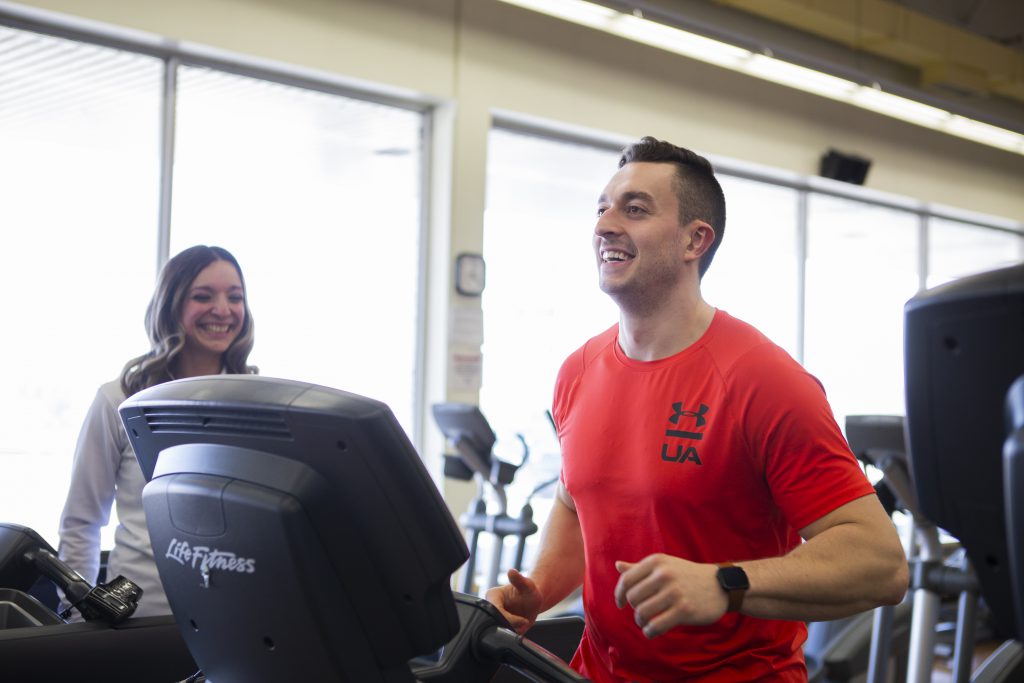 A running club : there's motivation in numbers!
Running is often thought of as a solo sport, but you're missing out if you always hit the road by yourself. Group running can enhance the experience. Your coach, a kinesiologist, accompanies the group at every session. He will lead the group towards a common goal, such as a competition, a race or a marathon. Being part of a social group has a positive effect on motivation levels. The presence of peers will motivate you to give your best and also makes the outing more enjoyable. Your coach will also propose specific exercises in order to develop your endurance, your running technique, etc.
As I said before, one does not become a runner overnight. The key words here are PATIENCE, PERSEVERANCE and PLAN. So put all the odds in your favour in order to succeed and discover the joys of running!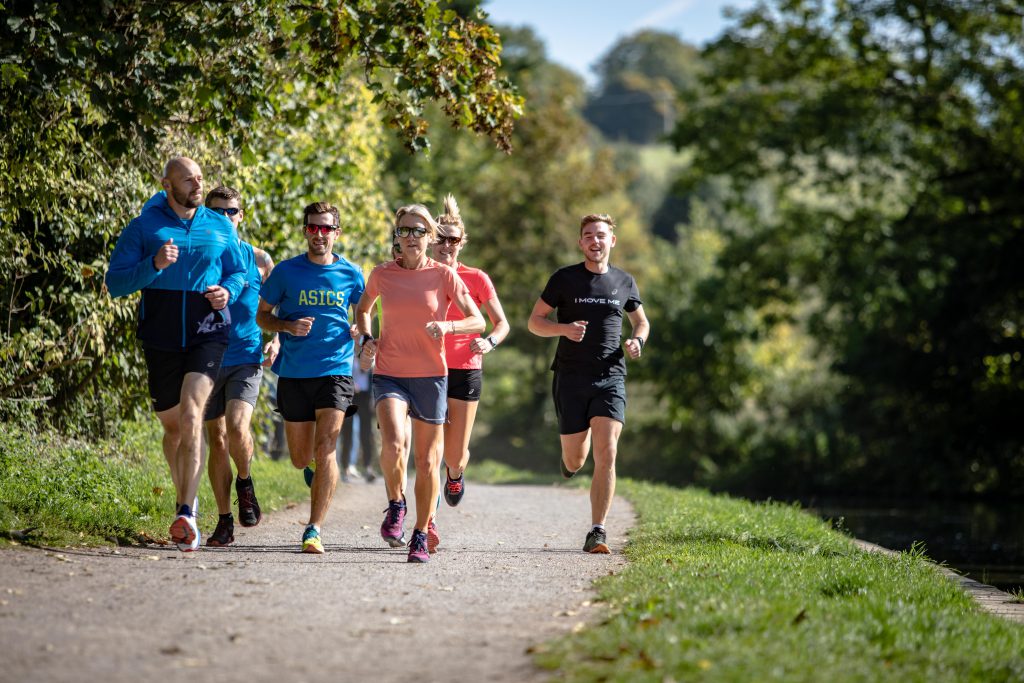 An introduction to jogging / running is a post from Nautilus Plus. The Nautilus Plus blog aims to help people in their journey to fitness through articles on training, nutrition, motivation, exercise and healthy recipes.
Copyright © Nautilus Plus 2019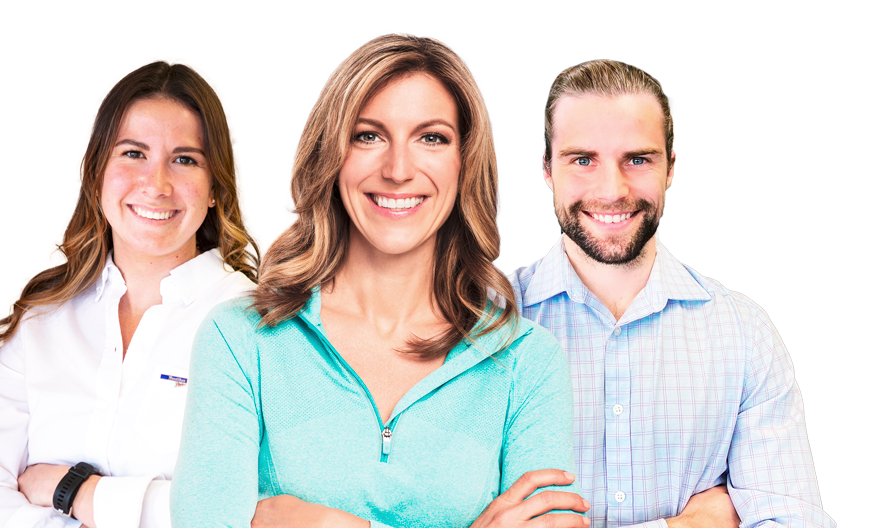 Eat better and stay well informed with the Nautilus Plus blog!

Read articles from our experts and discover our healthy recipes.
Subscribe to the blog
Articles in the same category