Half Ironman: A challenge that took me out of my comfort zone!
Half Ironman: A challenge that took me out of my comfort zone!
July 3, 2015 - By Karine Larose, M.Sc.

5 minutes
Following a pact sealed with my friends last summer, I decided to sign up for the half Ironman relay race that took place on June 21st in Mont-Tremblant. A half Ironman consists of swimming for 1.9 km, biking for 90 km, and running for another 21 km.
When you compete in a relay-style Ironman, each team member completes one of these stages. Because I really enjoy mountain biking, I decided to take up the biking part. However, cycling for 90 km is not done with a simple snap of the fingers. You have to train specifically for this objective! As a mom of two with a busy schedule, finding 2 to 3 hours straight to go for a ride was no easy task, especially since I was simultaneously preparing and practicing for the shooting of my new DVDs. I still managed to dedicate the necessary time to my training to ensure I would be fully prepared.
Between stress and confidence
A few days before D-day, I felt relatively confident. I began feeling stomach butterflies the day before the race as I was registering my team. At that moment, I realized the scope of this event. What a feat of organization! The location itself was spectacular, the fencing around the transition area was huge, there were bikes as far as the eye can see. Thousands of athletes were going to take up this major challenge. Unlike me and some 60 other participants, all of these athletes were going to complete all three stages alone… impressive!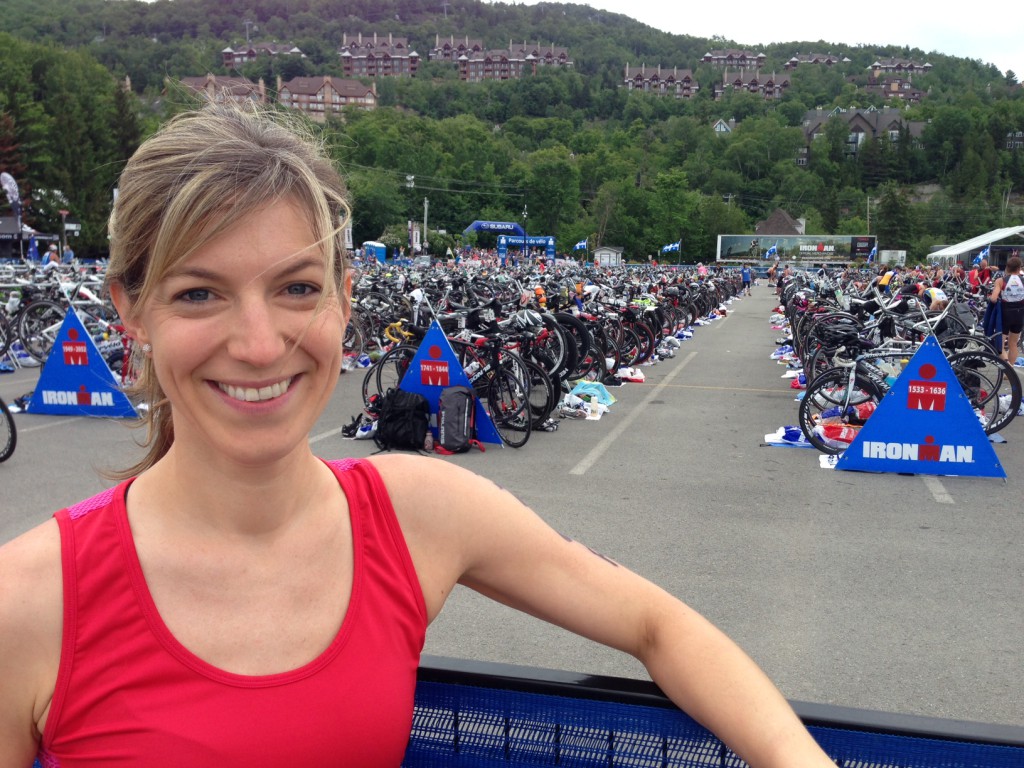 The big day
After only a few hours of sleep, a half-digested breakfast, and feeling a little dizzy from stress, here I am in the transition area, waiting for Carole to pass me the "chip" that would time the duration of our team event. Excited, I warmly welcome Carole, slip the chip around my ankle, hop on my bike, and begin my ride. "Go on, go on, go on, Valérie's waiting for you to start running," is all that's going through my mind. After two hours, I feel a drop of energy despite my efforts to eat regularly. Truth is, I am a bit bored, and I wonder about why I decided to sign up. What was I thinking? "You won't see me doing this twice!"
Positivism is the key!
I barely gobble down a smooth lime gel. "Go on, go on, just keep going." I know that the last 20 kilometers will be harder because of the hills. "How will I manage to do this?" I decide to change my frame of mind, and attack the remaining mileage with a positive attitude. "Only 20 kilometers to go! Let's go Karine, most of these people will run 21 km right after. You can do it! You can always do it! You'll be so proud of yourself." A few minutes later, the notorious road Duplessis, known for its steep climbs, unfolds before me. Contrary to what I expected, I climb it with confidence. I gather the strength to push even harder. Is this what it feels like to catch our second wind? I even cheer other cyclists along the way!
Finally, I have only 4 km to go. Let's go! I cross the last roundabout and see the blue archway in the distance, the entrance to the transition area. That's it, I crossed the finish line! What a relief! I get off my bike and run to Valérie. I give the chip to my partner along with a few words of encouragement, and there she goes, running her half-marathon! It's over (for me). I feel a rush of endorphins, a nearly instantaneous well-being. I feel an overwhelming joy for having completed this event. Later at the finish line, we welcomed our partner Valérie, who just went through two hours of running in this warm weather. "Congratulations girls, we succeeded!"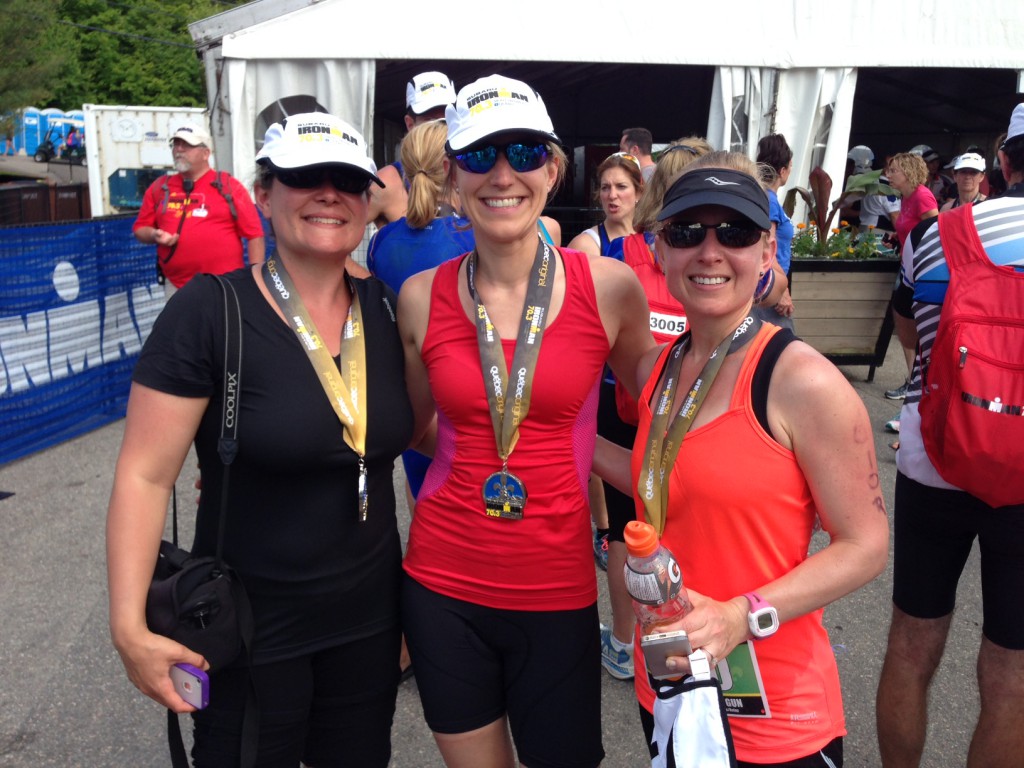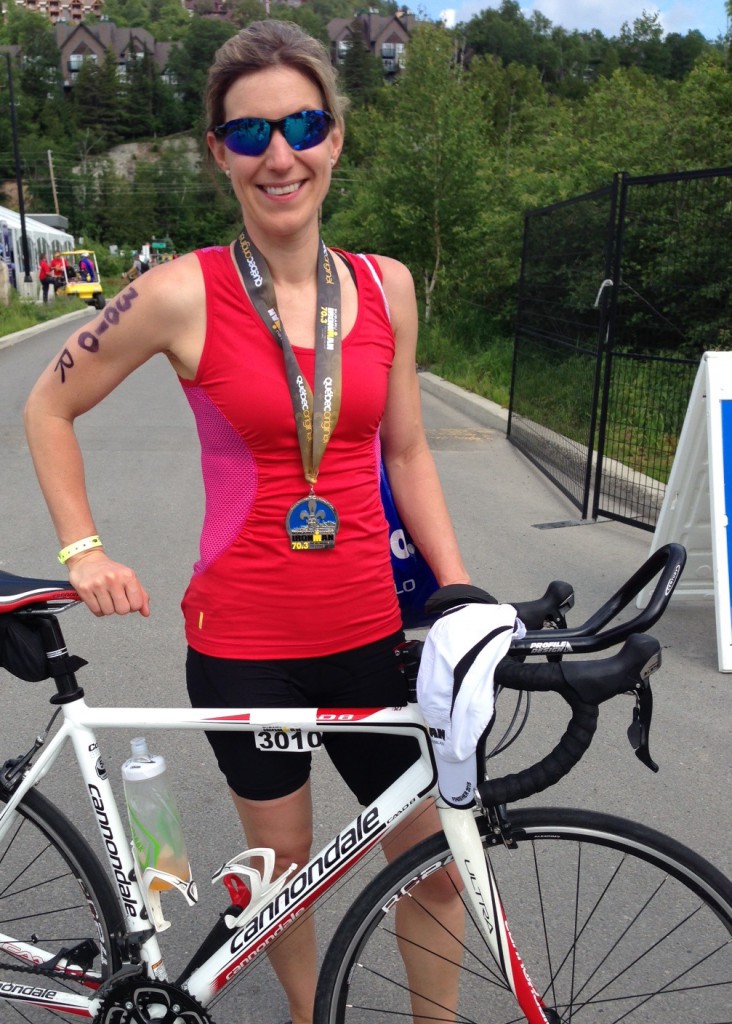 Growing through challenges
A few days after this challenge, I feel a blend of mixed emotions: a feeling of elation and achievement, with a hint of disappointment that the race is "already" over! I don't have to put all those hours into training anymore. Signing up to such a challenge inevitably pushed me to train diligently in a sport I was not very familiar with. I would say that this event made me step out of my comfort zone, and I realized what I am capable of. All the preparation that led me to achieve this particular goal was part of the pride I felt when I accomplished it. In short, I discovered that this kind of challenge, which takes me beyond my regular day-to-day habits, motivates me!
Will I sign up for the upcoming half Ironman next fall? Maybe. What I can assure you of is that I will plan other challenges on occasion. And you, what are the various reasons that motivate you to train with diligence?
Half Ironman: A challenge that took me out of my comfort zone! is a post from Nautilus Plus. The Nautilus Plus blog aims to help people in their journey to fitness through articles on training, nutrition, motivation, exercise and healthy recipes.
Copyright © Nautilus Plus 2015
Articles in the same category