Five Good Reasons to Get (Back) in Shape at any Age!
Five Good Reasons to Get (Back) in Shape at any Age!
December 21, 2016 - By Karine Larose, M.Sc.

2 minutes

Symptoms that are believed to be age-related (larger waistline, deterioration of mental faculties, and physical disabilities) are rather a consequence of disengaging from our bodies and minds in our daily lives past a certain age. Everybody grows old, but the way we feel in our body and our overall well-being are largely under our control. Here are some of the benefits of being in shape and adopting an active lifestyle and a healthy nutrition at any age.
1. Improvements will be more noticeable for beginners. It is encouraging to know that the benefits begin quickly in people who had been living a sedentary lifestyle for several years; therefore, there is potential for big changes!
2. Pre-existing health conditions such as high blood pressure, diabetes, joint issues, and obesity can be better controlled and even resolved, and several other diseases can be prevented, such as cancer, osteoporosis, Alzheimer, etc.
3. Overall energy levels are improved and fatigue is virtually eliminated. The energy we thought we had lost makes a strong comeback, and sleep quality improves.
4. Undeniable mood enhancer. Enhances mood, lowers depression and anxiety, and improves self-esteem. Regardless how old you are, feeling better is always a good thing!
5. Not only does strength training such as weight lifting, resistance band training, etc., helps prevent the loss of muscle mass(which usually begins as young as 30 years old), it can also maintain, and even increase it. Strength training is a must, as a good amount of muscle ensures improved mobility in our daily lives.
Being healthy means far more than avoiding disease; it's a privilege and a quality of life that we must protect as best we can through our daily choices by eating healthy food and exercising more. Every action counts and is worth enjoying a longer, healthier life!
Karine Larose, M.Sc.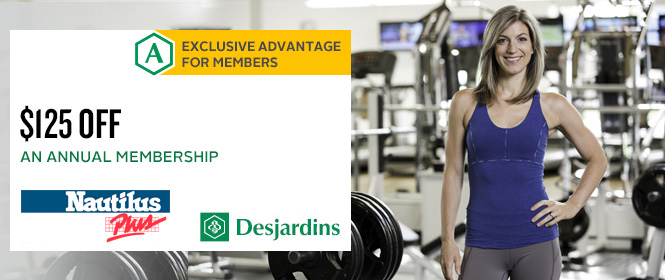 Five Good Reasons to Get (Back) in Shape at any Age! is a post from Nautilus Plus. The Nautilus Plus blog aims to help people in their journey to fitness through articles on training, nutrition, motivation, exercise and healthy recipes.
Copyright © Nautilus Plus 2016
Articles in the same category