Chicken sauté with peanut sauce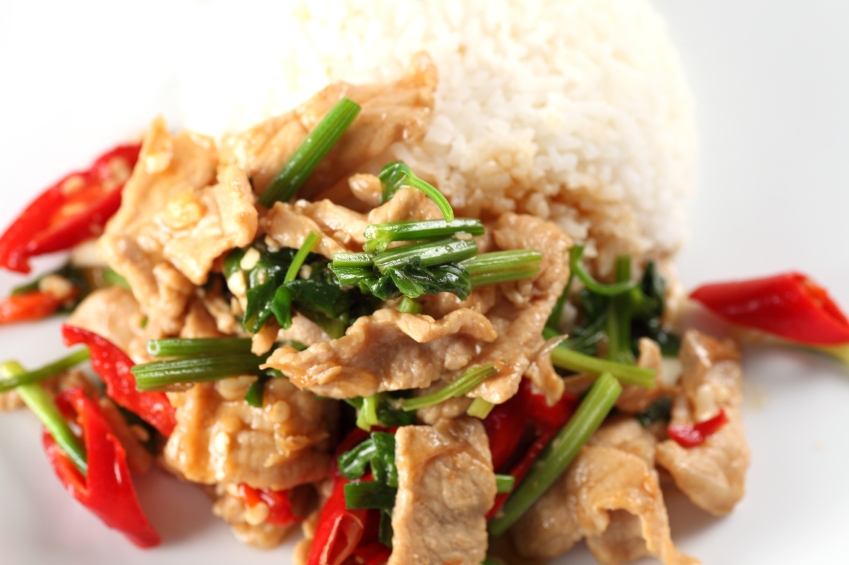 In the mood for a little Thai touch? Then you will certainly enjoy this chicken sauté with peanut sauce. It is so smooth, creamy and tasty that you will feel as if you are treating yourself. Bon appétit!
4 servings
423 calories/ 46g carbs/ 14g fat/ 30g protein
Ingredients
2 garlic cloves, chopped
60 ml (1/4 cup) natural peanut butter
15 ml (1 tablespoon) honey
15 ml (1 tablespoon) soya sauce
30 ml (2 tablespoons) rice vinegar
Juice from 1 lime
5 ml (1 teaspoon) fresh ginger, grated
1 red hot chili pepper, chopped (or ½ teaspoon chili powder)
60 ml (1/4 cup) cilantro, chopped
15 ml (1 tablespoon) olive oil
1/ 4 white onion, cubed in big pieces
2 (360g) chicken breast, cubed
1 red pepper, cubed in big pieces
1 zucchini, cut in slices
8 (340 g) small bok-choy (Chinese cabbage), cut in four pieces
Salt and pepper, to taste
Sidedish (per person)
½ cup brown rice, cooked
Instructions
1. In a large bowl, mix the garlic, peanut butter, honey, soya sauce, rice vinegar, lime juice, ginger, chili pepper, and cilantro. Set aside.
2. In a pan, sauté the onions in olive oil for about 5 minutes. Add the chicken, sweet pepper, zucchini, and bok-choy. Add salt and pepper and cook for about 10 minutes.
3. Once the chicken is cooked, remove from heat and add the peanut sauce to warm it up. Serve your chicken and vegetables on a bed of rice.
By Karine Larose