Chicken Curry in Coconut Milk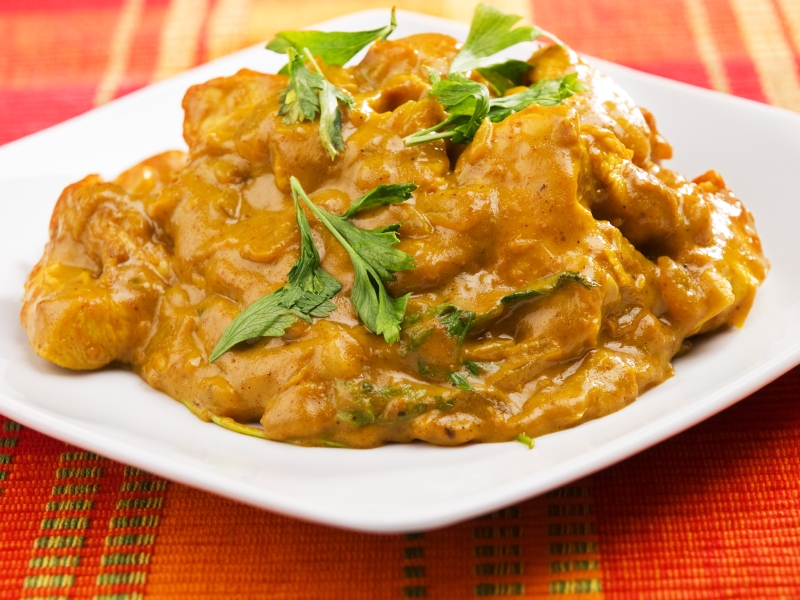 This chicken curry in coconut milk recipe is sure to please any Indian food lover. In order to complete this meal, we suggest you serve it with ½ cup cooked basmati or long grain rice, and 4 steamed asparagus spears ( 13 calories). Bon appetit !
Yield : 6 portions
Calories: 231 | Carbs: 9.3g | Fat: 9.2g | Protein : 26.3g
Ingredients:
1 large onion
1 tablespoon olive oil
4 garlic cloves, finely chopped
2 teaspoons fresh ginger, grated
4 Italian tomatoes, seeded and diced
1 can light coconut milk (400 ml)
1 ½ teaspoon Garam Masala (Indian spice blend)
1 red or green Chili pepper, finely chopped
1 ½ lbs deboned, skinless chicken breasts, cut in strips
2 limes
Salt and pepper to taste
Fresh coriander for garnish
Preparation:
Heat oil in pan. Add onions and cook until sightly golden. Add garilic and ginger. Cook 1 minute. Add tomatoes, coconut milk, garam masala, chili pepper and salt. Simmer on LOW for 10 minutes.
Add chicken strips. Bring to boil, and then lower heat and allow to simmer 5 to 8 minutes. Add lime juice and top with fresh coriander. Taste for salt and pepper and adjust as necessary. Serve. Enjoy !
By Karine Larose