Two MUSTS for the bike
Two MUSTS for the bike
July 30, 2012 - By Karine Larose, M.Sc.

2 minutes
As I mentioned in last week's entry "Two Musts For Running", there are many advantages to integrating muscular exercises to their program for those practicing cardiovascular activities such as running, swimming, or biking. Again this week, I am suggesting two exercises that will specifically help you improve your performances, but this time on the bike. Next week, I will suggest two exercises specific to swimming.
These exercises can be done 2 or 3 times a week, before or after your bike rides.
Exercise 1: Bridge
Target areas: Legs
Accessories: Exercise ball
How many: 15 repetitions.
Execution: Laying on the ground with your heels resting on the exercise ball and your legs straight (A), pull with your legs and bend your knees in order to bring the ball near your glutes (B). Then, lift your pelvis upward while contracting your glutes (C). Return to initial position without letting your glutes touch the ground, and repeat these two steps.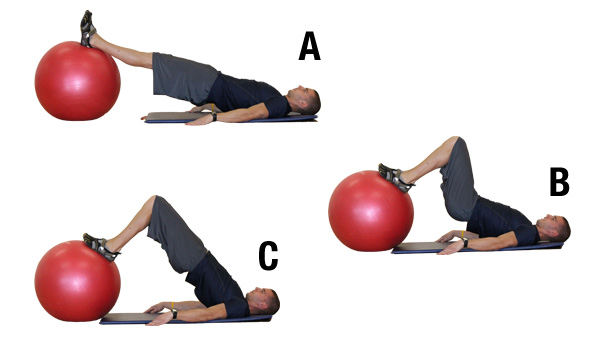 Exercise 2: Arm extension on the exercise ball
Target area: Abs
Accessories: Exercise ball
How many: 15 repetitions.
Execution: On your knees with your forearms set on the exercise ball in front of you (A), extend your arms from the shoulders to push the ball away from your body in such a way as to form a straight line from your knees to your hands (B). Avoid arching or rounding your back. Return to initial position by pulling the ball toward you while keeping your abs tensed. Repeat.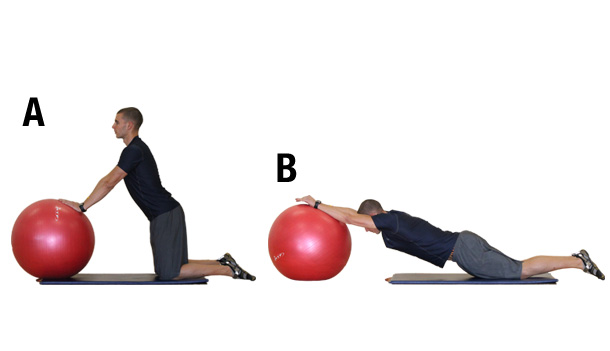 By Karine Larose
Model: Mathieu St-Ours
Two MUSTS for the bike is a post from Nautilus Plus. The Nautilus Plus blog aims to help people in their journey to fitness through articles on training, nutrition, motivation, exercise and healthy recipes.
Copyright © Nautilus Plus 2012
Articles in the same category