Tuna Tartare with Mango & Lime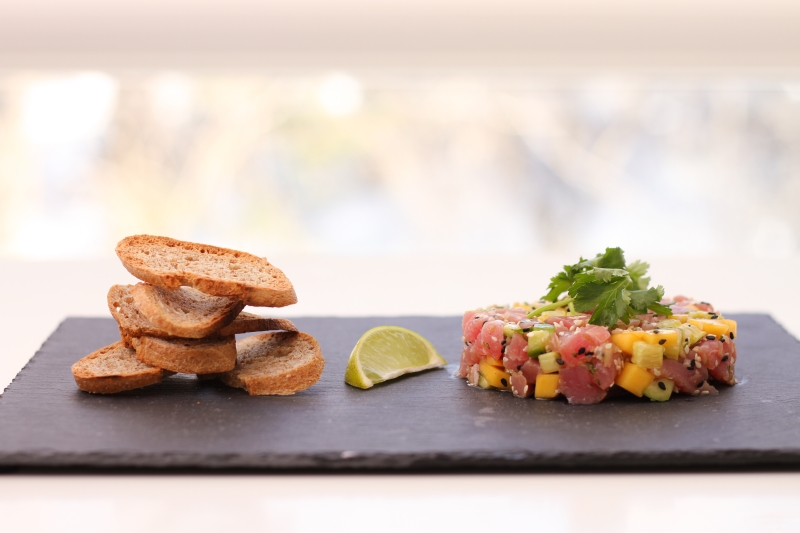 4 servings
Ingredients
30 ml (2 tablespoons) grey shallots, chopped
45 ml (3 tablespoons) orange juice
15 ml (1 tablespoon) low-sodium soy sauce
15 ml (1 tablespoon) rice vinegar
5 ml (1 teaspoon) fresh ginger, grated
2.5 ml (1/2 teaspoon) Sriracha sauce (to taste)
Zest and juice from a lime
454 g (1 lb) red or white tuna, cut into small cubes
190 ml (¾ cup) mango, cut into small cubes
125 ml (1/2 cup) cucumber, cut into small cubes
125 ml (1/2 cup) avocado, cut into small cubes
45 ml (3 tablespoons) fresh cilantro, chopped
60 ml (1/4 cup) sesame seeds
Each serving of this recipe contains:
332 calories / 23 g carbs / 14 g fat / 31 g proteins / 5 g fiber 
Side dish, per person
35 g (6) finely sliced whole-wheat baguette croutons, oven-toasted
Each serving of this side dish contains:
105 calories, 18 g carbs, 2 g fat, 4 g proteins, 2 g fiber
Directions
In a large bowl, thoroughly mix the shallots, orange juice, soy sauce, rice vinegar, ginger, Sriracha sauce, and lime zest and juice.
Add the tuna, mango, cucumber, avocado, cilantro, and sesame seeds. Add salt and pepper, and mix carefully.
Using a cookie cutter, mold the tartare, and garnish with a cilantro leaf and a wedge of lime.
Bon appétit!
By Sophie Blais