Tofu Tacos – Take another look at tofu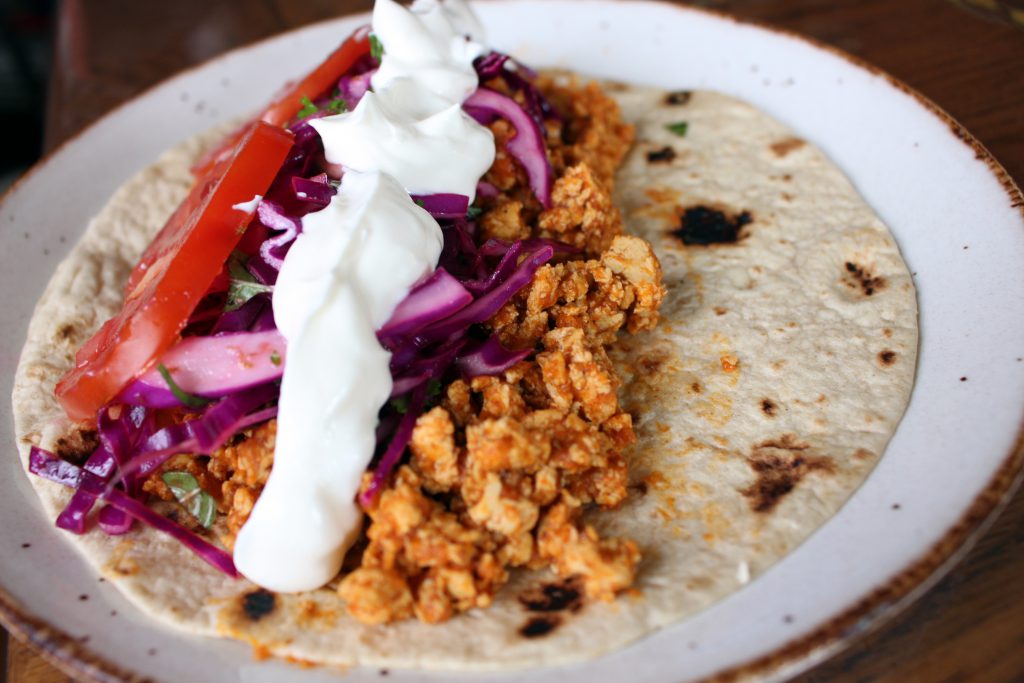 Have you ever cooked with tofu?
If not, head straight to your nearest grocery store and befriend this fabulous food with countless qualities! To learn more on the advantages of cooking with tofu, go to my previous article in which I share a great tofu bacon recipe.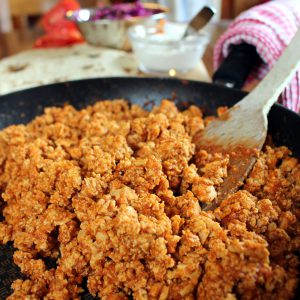 This time, we will be crumbling the tofu. Crumbled tofu can easily replace meat, in part or entirely, in many recipes. Think chili, cabbage rolls, spaghetti sauce, meatloaf…and the list goes on. Besides, if you have children, they will enjoy helping you crumble the tofu with their little hands, I guarantee it!
The following crumbled tofu recipe has a distinctive Mexican flavour. The result is quite surprising, you can easily mistake if for minced meat! The vegetable-based sauce, with its robust flavour, will kick-off this healthy and delicious meal!
This vegetarian mixture for tacos is ideal served hot, on a tortilla, and well granished. My favourite garnish combo is : plain Greek yogurt (less fat than sour cream), sliced avocado (or tomato) and shredded red cabbage with lime and cilantro. Delicious!
Tofu Tacos Recipe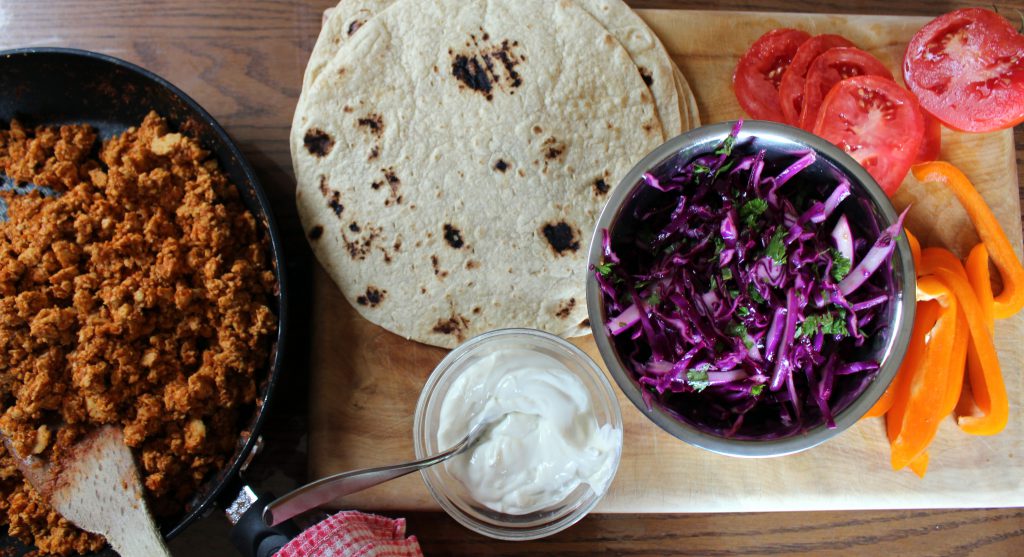 Yield : 4 portions
Prep time : 20 minutes
Cook time : 30 minutes
Ingredients :
1 block of firm or extra-firm tofu (frozen then thawed- see footnote 1))
1 onion cut in cubes
½ red or orange bell pepper cut in cubes
2 garlic cloves minced
½ 796ml can cubed tomatoes
4 drops of liquid smoke flavouring
1 tbsp. (15ml) chili powder
1 tbsp. (15ml) soya sauce
10 drops hot sauce (ex. : Tabasco)
1 pinch of sugar
Preparation :
Prepping the tofu : squeeze excess liquid from tofu by pressing it between the palm of hands. Rinse under running water and repeat squeezing process (see footnote 2)). Wrap in clean dish towel, cheesecloth or paper towel and absorb remaining liquid from block of tofu. Using your fingers, crumble the tofu until you obtain a minced meat texture.
Heat 2 to 3 tablespoons vegetable oil in a saucepan. Sauté onions and bell peppers for several minutes until golden. Add garlic and continue cooking for 2 minutes. Add tomatoes and their liquid, and continue cooking until most of the liquid has evaporated.
Remove from heat and transfer contents of saucepan into a blender. Add the rest of the ingredients, except tofu, and blend until you've obtained a uniform chuncky consistency. Taste and adjust seasoning if necessary.
In the same saucepan, heat 2 tablespoons vegetable oil and add tofu. Cook for several minutes or until tofu starts to brown. Slowly add the tomato mixture. Stir well and continue cooking until most of the liquid has evaporated.
Serve on a tortilla and garnish as desired with yogurt, lettuce, salsa, shredded red cabbage, sliced cucumbers, sliced tomatoes, cubed avocados , etc.
1) Freezing then thawing tofu is an especially good technique to use if you need the tofu to be really firm and allow you to handle it without it breaking.
2) Rinsing the tofu helps neutralize its distinctive flavour. Interesting when you want to simulate the taste of meat.