The incredible healing power of exercise!
The incredible healing power of exercise!
October 30, 2013 - By Karine Larose, M.Sc.

3 minutes
It wasn't until their annual physical that two contestants in the I'm Taking Charge 2 Challenge became fully aware of the extent of the health benefits of exercise and a healthy diet.
Simon Gonthier (age 52, 5'9", 215 lb) not only changed his physical appearance, but also significantly improved his cholesterol levels. Though he had never suffered from any cholesterol-related problems despite his weight of 215 lb and cholesterol level of 5.6, these two figures motivated his doctor to issue a serious warning. Three months after the Challenge, Simon had dropped 36 lb and reduced his cholesterol to 4.9. "That's pretty good" says Simon. "Health care professionals identify their patients' risk factors using the scales of criteria they have developed. In my case, the only remaining risk factor is my age, the only one we can't control. Anyway, to cut a long story short, my doctor gave me a good pat on the back."
Jean-Philippe Pelletier (age 40, 5'9", 213 lb) had been diagnosed with type 2 diabetes and, for quite a few years, had been taking medication for his cholesterol and high blood pressure. When the Challenge was over, three months later and 52 lb lighter, his doctor withdrew all his medication, yes ALL! No more diabetes, cholesterol or high blood pressure. You have to admit, it's pretty amazing that in just three months, his health problems weren't just alleviated, but cured! Jean-Philippe, alias the "déchaîné" is keeping up his active lifestyle, continues to eat healthy, and feels great!
Beyond physical transformation, adopting a healthy lifestyle is also rewarded with psychological changes. The health benefits are many and varied and health scientists are discovering new ones every day. So, if you are active and eat healthy, but feel that the scale doesn't reflect your efforts, don't fret! Just tell yourself that the weight indicated is often misleading and that you're doing your body a ton of good. Your healthy lifestyle is helping you prevent the onset of various diseases—successfully.
Allow me now to reiterate the importance of applying the five golden rules for chronic disease prevention, developed by Richard Béliveau:
do not smoke
maintain a normal body weight (BMI between 21 and 23)
eat an abundance of plant-based items (fruits, vegetables, whole grains, etc.)
exercise at least 30 minutes a day
reduce your intake of sugar- and fat-rich products (especially fast food)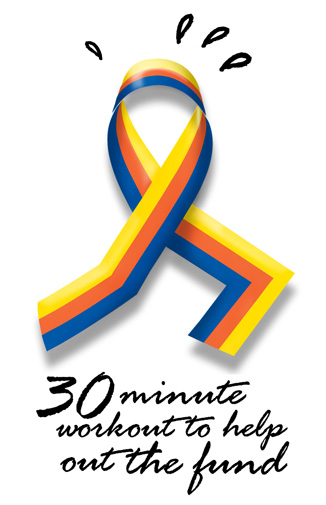 On November 10 next, I invite you to do your 30 minutes of daily exercise for a good cause—participate in the 30-minute workout to help out the fund at one of the Nautilus Plus locations and contribute toward financing the research being conducted into cancer prevention. For further details, consult: http://www.30minutesafond.com/en/
By Karine Larose
The incredible healing power of exercise! is a post from Nautilus Plus. The Nautilus Plus blog aims to help people in their journey to fitness through articles on training, nutrition, motivation, exercise and healthy recipes.
Copyright © Nautilus Plus 2013
Articles in the same category