Shrimp, Pesto, and Sun-Dried Tomato Pizza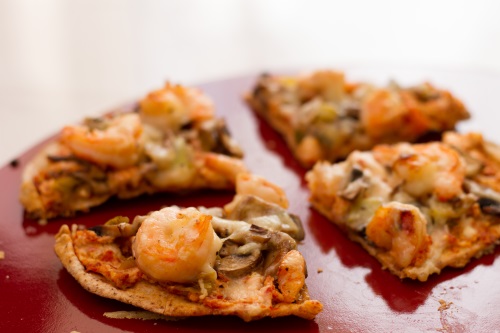 2 servings
Ingredients
5 ml (1 teaspoon) olive oil
150 g (16) raw shrimps, peeled and deveined
1 garlic clove, chopped
310 ml (1 ¼ cup) mushrooms, sliced
190 ml (3/4 cup) leeks, sliced
60 ml (1/4 cup) partly skimmed ricotta cheese
30 ml (2 tablespoons) sun-dried tomato pesto
90 g (2) whole wheat pitas
125 ml (1/2 cup) fat-free mozzarella cheese, grated
30 ml (2 tablespoons) fresh basil, chopped
Salt and pepper, to taste
Each serving of this recipe contain :
395 calories / 36 g carbs /  36 g proteins / 14 g fat / 5 g fiber
Directions
Preheat oven to 375 °F.
Heat olive oil in a pan, and cook the shrimps for 1 minute on each side. Add the garlic, and resume cooking for 30 seconds. Add salt and pepper. Set aside.
Using the same pan, add the mushrooms and leeks, and cook for another 5 minutes. Add salt and pepper. Set aside with the shrimps.
In a small bowl, mix the ricotta cheese and pesto.
Put the pitas on a baking sheet covered with parchment paper.
On each pita, spread layers of pesto sauce, mushrooms, leeks and shrimps, and mozzarella cheese, and then garnish with basil.
Bake for about 10 minutes, or until the cheese is slightly browned.
Bon appétit!
By Sophie Blais