Prosciutto, Caramelized Onions, and Cheddar Pizza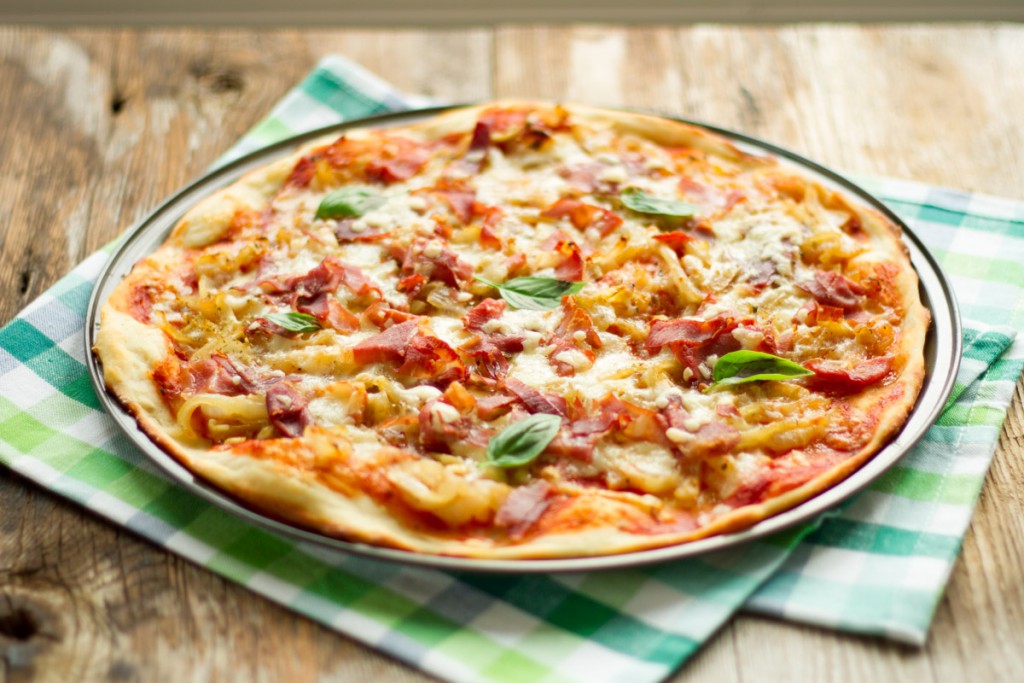 We put this new high-protein (from the Greek yogurt) pizza dough recipe to the test, and we were surprised to see how great it turned out! It's so simple, easy to prepare, and delicious at the same time! It really feels like eating a real regular pizza! We indulged ourselves with the topping and used prosciutto, caramelized onions, and cheddar! Don't be surprised: I assure you that this is indeed a healthy recipe! To make it so, add two servings of vegetables as a side dish.
Preparation: 15 minutes
Baking: 12 minutes
Total time: 27 minutes
Servings: 4
Nutritional value per portion:
385 Calories | 13 g Fat | 42 g Carbs | 3 g Fibres | 23 g Protein
Ingredients
High-protein pizza dough
250 ml (1 cup) 0% plain Greek yogurt
310 ml (1¼ cup) all-purpose unbleached white flour
Salt
Prosciutto, caramelized onions, and cheddar pizza
2 onions, sliced
10 ml (2 teaspoons) olive oil
2 garlic cloves, chopped
90 ml (1/3 cup) store-bought pizza sauce
190 ml (3/4 cup) cheddar, grated
2,5 ml (1/2 teaspoon) dry oregano
5 prosciutto slices, chopped
5 basil leaves
Salt and pepper, to taste
Directions
Pizza dough:
In a large bowl, add the yogurt with 250 ml (1 cup) of flour. Mix with a wooden spoon or a stand mixer (using the kneading hook) until smooth. If using the stand mixer, knead at mid-high speed for about 5 minutes, or knead by hand on a floured work surface. Slowly incorporate 60 ml (1/4 cup) of additional flour. Use a rolling pin to roll out the dough.
Put the rolled-out dough on a baking sheet covered with parchment paper. Set aside.
Prosciutto, caramelized onions, and cheddar pizza:
Preheat oven to 450°F.
In a non-stick pan, fry the onions in olive oil. Cook over medium-low heat for 20 minutes to caramelize the onions. Add salt, pepper, and garlic and resume cook for 1 minute. Set aside.
Cover the pizza dough with sauce and caramelized onions, and then garnish with cheddar cheese, oregano, and prosciutto.
Bake for 10-12 minutes. Garnish with basil before serving.
Accompany your pizza with two servings of vegetables, for example a salad or raw vegetables!
Bon appétit!