Pork Tenderloin Stuffed with Figs, Feta, and Pine Nuts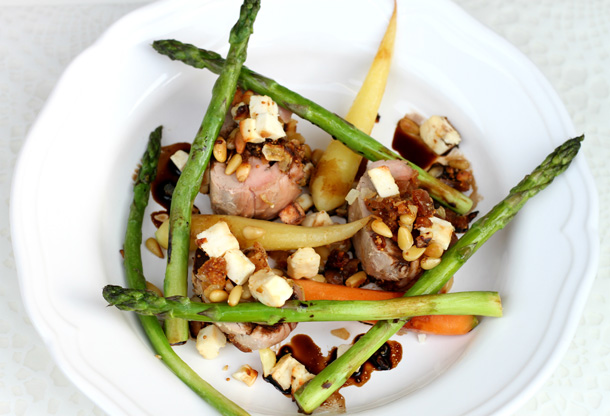 This week, I felt like preparing a pork tenderloin recipe for you, simply because it's so easy to prepare. I love mixing sweet and salty, and the addition of reduced balsamic vinegar really makes this recipe delicious! So, if you are having guests over this weekend, I suggest you try this recipe! Give me feedback!
4 servings
398 calories / 38 g carbs / 13 g fat / 32 g proteins / 6 g fiber
Ingredients
½ onion, chopped
2 garlic cloves, chopped
45 ml (3 tablespoons) pine nuts
10 ml (2 teaspoons) olive oil
454 g (1) pork tenderloin
90 ml (1/3 cup) dried figs, chopped
90 ml (1/3 cup) light feta cheese, diced
125 ml (1/2 cup) balsamic vinegar
20 asparagus
12 medium carrots, cut in halves
Salt and pepper, to taste
Directions
Preheat oven to 180 °C (350 °F)
In a large pan, sauté the onion and garlic in 5 ml of olive oil over low heat for 5 minutes. Add the pine nuts, and resume cooking for 2 minutes. Set aside.
Using a knife, butterfly the pork tenderloin, garnish with the caramelized onions, figs, and feta cheese lengthwise. Add salt and pepper. Shut with butcher's twine or toothpicks.
Bake for about 30 min, until the meat is pale pink (70 °C) or well done (77 °C).
During this time, prepare the sauce. In a small pan, simmer the balsamic vinegar over low heat. Reduce by half (about 15-20 minutes). Set aside.
Once the pork is almost ready, begin cooking the vegetables. Using a frying pan, cook the carrots in the remaining olive oil (5 ml). Cook for about 5 minutes, add the asparagus, and resuming cooking for 5 minutes. Add salt and pepper.
Once the pork is ready, take it out of the oven, wrap it in aluminum foil, and let sit for 5 minutes.
Bon appétit!
By Sophie Blais