Oven-Baked Carrot Chips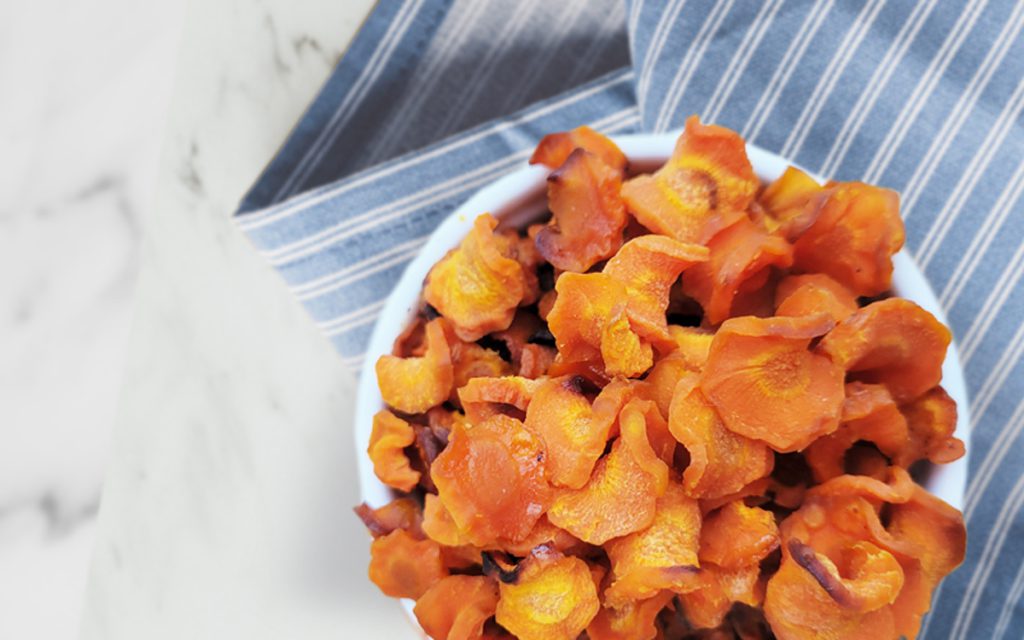 What better way to enjoy your favourite vegetable than as an appetizer, a snack or, even better, because it is rich in beta-carotene, a powerful antioxidant. These homemade carrot chips will take you only 10 minutes to prepare, and then straight to the oven!
And these chips are a perfect late-night snack.
Serving: 1
Preparation time: 10 minutes
Cooking time: 25 minutes
Ingredients:
2 medium carrots (250g)
15 mL (1 tbsp.) extra-virgin olive oil
1/2 tsp. (2.5 mL) sea salt
½ tsp. (2.5 mL) ground pepper
1/2 tsp. (2.5 mL) onion powder
Preparation:
Preheat oven to 400F and place rack in center of oven.
Peel carrots.
Using a mandolin, slice the carrots into thin rounds and place on your work surface.
Pat carrot slices dry with a clean cloth (this is crucial to avoid soggy chips).
In a large bowl, combine the carrots, olive oil, salt, pepper, and onion powder. Mix well.
Place the carrot slices on a baking sheet and try to spread them out evenly; they may touch but not overlap.
Bake for 25 minutes. Turn your carrot chips over halfway through the baking time.
You enjoy making your own homemade vegetable chips? Try these: Spicy Kale Chips!
Nutritional information per serving: 239 calories, 22 g carbohydrates, 6 g fibers, 16 g fat, 4 g proteins