Mexican Breakfast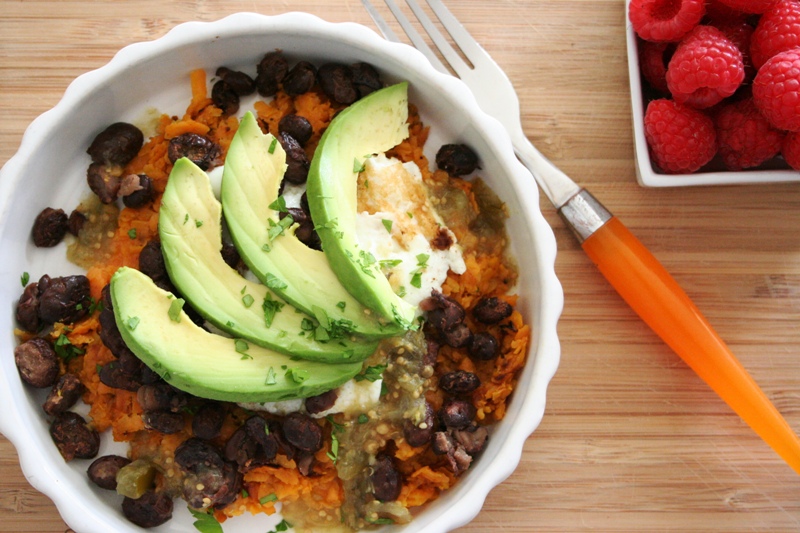 For this weekend, I will suggest an original brunch idea with Mexican flavours, in order to change from the typical Quebec breakfast, that is, eggs, bacon, baked beans, and sautéed potatoes. By changing a few elements, we can create a much more nutritive breakfast!
Did you know that sweet potatoes are great for your health? They have antioxidant properties and are filled with vitamin A, B6, and B2! Keep the peel to preserve all of these properties!
2 servings
Per serving (including side dish): 390 calories/ 50 g carbs/ 14 g fat/ 19 g proteins
Ingredients
10 ml (2 teaspoons) coconut oil (or canola oil)
1/2 sweet potato, average size, grated
125 ml (½ cup) canned balck beans, drained
2 eggs
30 ml (2 teaspoons) of salsa verde (see recipe below)
1/4 avocado, cut in slice
Salsa verde (or buy the salsa from the store)
8 oz tomatillos
1 Jalapeno pepper
1/2 onion, cubed
80 ml (1/3 cup) fresh cilantro
2 garlic cloves
Side dish (per person)
250 ml (1 cup) raspberries
Directions 
Salsa verde
To make the salsa, put the tomatillos in a saucepan and cover with water. Bring to a boil, lower heat, and let simmer for 5 minutes. Drain.
Puree in a food processor with the remaining ingredients (Jalapeno pepper, onion, cilantro, and garlic). Set aside in the refrigerator.
Mexican breakfast
To prepare the sweet potatoes quickly, I recommend grating them, and then cooking them in a pan with 5 ml of oil, for about 10 minutes. Add salt and pepper. I like using coconut oil for its health benefits and also for its taste, but if you do not have this oil you can use canola or olive oil.
In another pan, heat the rest of the oil, and add the eggs on one side and the beans on the other side of the pan once it is hot. Add salt and pepper. When the egg whites become opaque, flip the eggs. Cook for another 30 to 60 seconds, depending on the desired doneness.
Put the grated sweet potatoes in your plate, then the beans, and then the eggs. Garnish wih salsa verde and finish with avocado slices.
Bon appétit!