French Toast with Cinnamon and Berries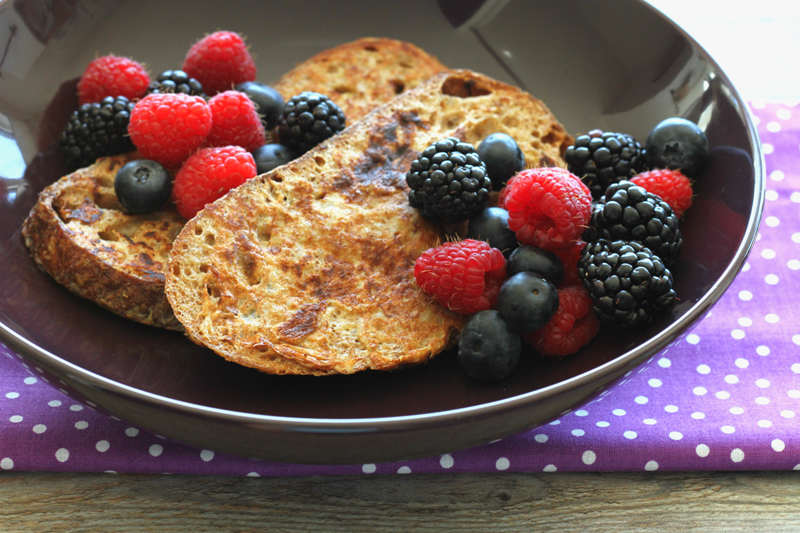 For all of you with a sweet tooth, this week I made up a delicious French toast recipe with fresh berries! What could be more refreshing and full of flavor at this time of the year? Try it this week-end for the family brunch! Have a great breakfast!
3 servings
Per serving : 379 calories / 61 g carbs / 10 g fat / 14 g proteins / 8 g fibre
Ingredients  
3 big eggs
60 ml (1/4 cup) 1 % M.F. milk
15 ml (1 tablespoon) maple syrup
2.5 ml (1/2 teaspoon) vanilla extract
2.5 ml (1/2 teaspoon) cinnamon
6 slices whole-wheat bread, no fat no sugar
5 ml (1 teaspoon) butter
375 ml (1½ cup) mixed fresh berries (blackberries, raspberries, blueberries)
Side dish (per serving)
15 ml (1 tablespoon) maple syrup
Directions
In a small bowl, thoroughly mix the eggs, milk, maple syrup, vanilla, and cinnamon.
In a pan, heat the butter over medium-low heat. Dip the bread slices in the egg mix, and cook in the hot pan for about 2 minutes on each side.
Add the fruits and maple syrup right before serving.
Bon appétit!
By Sophie Blais