Flank steak tacos with lime and cilantro marinade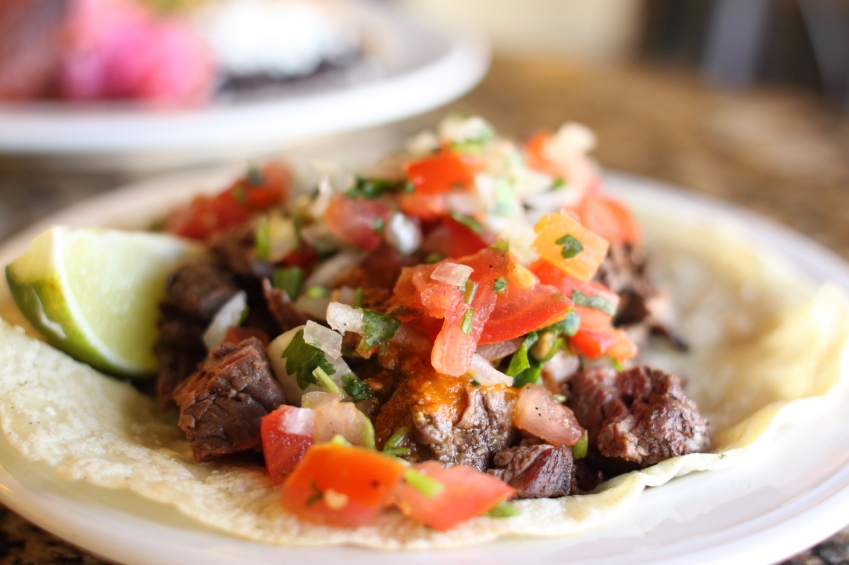 Sometimes, a classic recipe can easily be modified to make us discover new flavours, or simply for the sake of change! With the beautiful summer we've had so far this year, let's take advantage of the barbecue with this delicious flank steak tacos recipe.
4 servings
432 calories/44 g carbs/ 22 g fat/ 20 g protein
Ingredients
2 (180 g) small beef flank steaks
4 whole wheat tortillas (7 po)
250 ml (1 cup) iceberg lettuce, chopped
125 ml (1/2 cup) low-fat cheddar cheese, grated
125 ml (1/2 cup) cherry tomatoes, chopped
125 ml (1/2 cup) red onion, chopped
Marinade
3 garlic cloves
1/2 white onion, cubed
Juice from 2 limes
1 jalapeno pepper, cubed
5 ml (1 teaspoon) cumin
2,5 ml (1/2 teaspoon) flaked peppers
125 ml (1/2 cup) cilantro, chopped
60 ml (1/4 cup) olive oil
Salt and pepper
Side dish (per person)
1 corn on the cob, boiled
Instructions
1. First, prepare the marinade. In a food processor, add the garlic cloves, onions, lime juice, and jalapeno pepper. Chop to bite size. Mix the rest of the ingredients.
2. Put the flank steaks in a bowl and add the marinade. Cover with plastic wrap and marinate the flank steaks in the refrigerator for 12 hours.
3. Grill the flank steaks on the barbecue for 6-10 minutes on each side, depending on the desired level of cooking.
4. A few minutes before the meat is cooked, add the tortillas on the grill to heat them up.
5. Cut the flank steaks in slices.
6. To make your tacos, add the flank steak slices, a few pieces of lettuce, cheese, tomatoes, and onions.
By Karine Larose