Coconut-Almond French Toast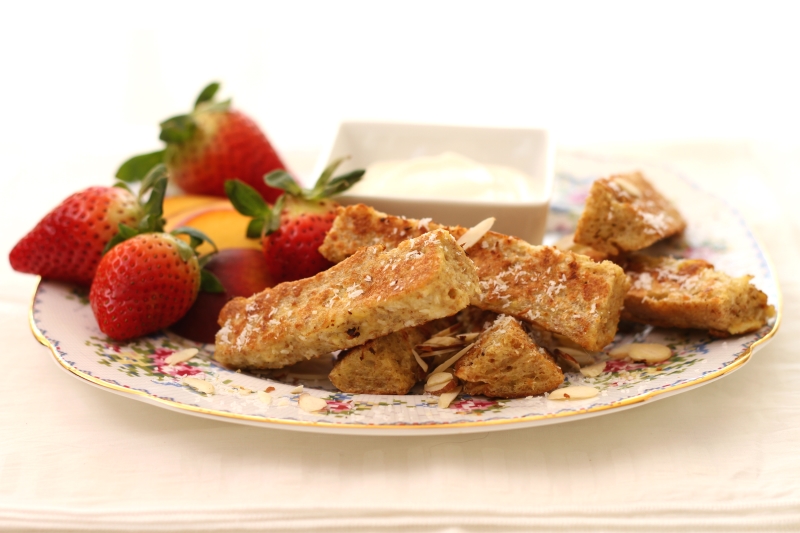 4 servings
Ingredients
250 ml (1 cup) 0 % M.F. plain Greek yogurt
30 ml (2 tablespoons) unsweetened coconut, grated
20 ml (4 teaspoons) maple syrup
3 eggs
90 ml (3/4 cup) 1 % M.F. milk
5 ml (1 teaspoon) brown sugar
2,5 ml (1/2 teaspoon) vanilla extract
200 g whole-wheat baguette, sliced
5 ml (1 teaspoon) olive oil
500 ml (2 cup) fresh strawberries, sliced
2 peaches, sliced
60 ml (1/4 cup) unsalted almonds, chopped
Each serving of this recipe contains:
385 calories / 42 g carbs / 22.5 g proteins / 15 g fat / 7 g fiber
Directions
Preheat oven to 100 °C (200 °F).
In a bowl, mix the Greek yogurt with the coconut and maple syrup. Set aside.
In a second bowl, whisk the eggs with the milk, brown sugar, and vanilla. Set aside.
In a pan, heat the olive oil to medium-low. Dip the bread slices in the egg mix and cook for about 2 minutes on each side.
After each French toast is ready, set it aside on a baking sheet in the oven.
Right before serving, garnish each French toast with maple syrup yogurt, strawberries, peaches, and almonds.
Bon appétit!
By Sophie Blais