Chicken Sandwich With Tomatoes, Feta, and Pesto Mayonnaise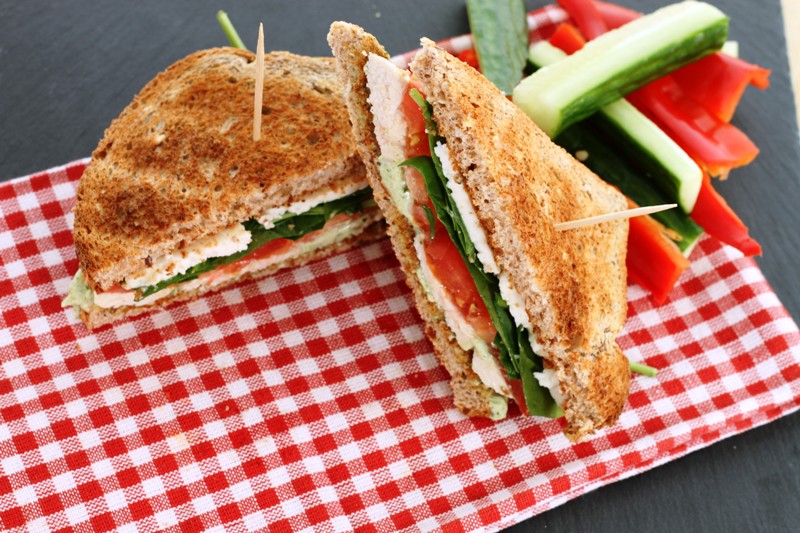 This chicken sandwich has nothing to do with the traditional sandwich from our lunch boxes, which is often dull and devoid of any surprises. A simple and quick recipe, but most of all, a recipe full of flavor!
2 servings
Per serving (including side dish) : 423 calories / 45 g carbs / 17 g fat / 29 g proteins / 7 g fibres
Ingredients
125 ml (1/2 cup) low-sodium chicken broth
1/2 (90 g) chicken breast, cut in strips
15 ml (1 tablespoon) light mayonnaise
15 ml (1 tablespoon) 0 % Greek yogurt
15 ml (1 tablespoon) olive-based store-bought pesto
4 slices of multigrain bread, grilled (no fat, no sugar)
1 tomato, cut in slices
4 (60 g) small slice of light feta cheese
A few spinach leaves
Salt and pepper, to taste
Side dish (per person)
½ sweet red pepper, cut in strips
6 cucumber sticks
Directions
1. In a pan, bring the chicken broth to a boil, add the chicken strips, and cook for 5 minutes. Set aside.
2. In a small bowl, mix thoroughly the mayonnaise, yogurt, and pesto. Set aside.
3. Grill the bread slices in the toaster. Put the tomato and feta slices on half of the bread slices, and pesto-flavored mayonnaise on the remaining half.
4. Add the cooked chicken, a few spinach leaves, as well as salt and pepper.
Bon appétit!
By Sophie Blais