Apple-Flavored Braised Chicken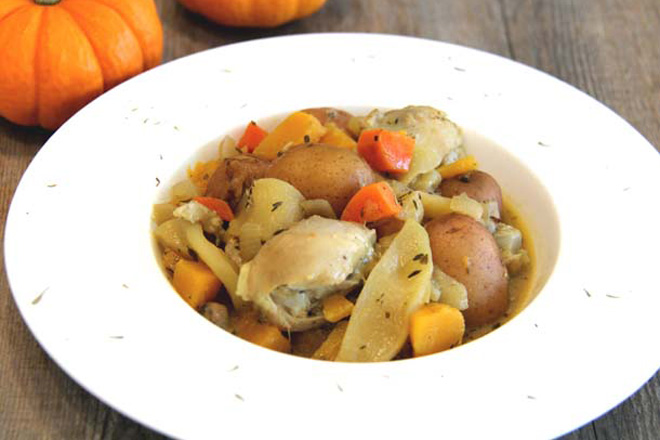 Time for apple-picking! Did you go and pick some yourself? What a great family activity. Here is a healthy recipe for all the apples you've picked that is very easy to prepare: simply stuff everything in the same pot, and then in the oven! As a bonus, I added another food that's in season right now, the delicious butternut squash.
4 servings
461 calories / 63 g carbs / 9 g fat / 31 g proteins / 8 g fiber
Ingredients
5 ml (1 teaspoon) olive oil
1 onion, diced
1 carrot, diced
2 garlic cloves, finely chopped
4 (125 g each) skinless chicken thighs
2 apples (Cortland, Empire, Gala, McIntosh, or Spartan), peeled and sliced
500 ml (2 cups) butternut squash, cut in pieces
12 small red potatoes, cut in half
60 ml (1/4 cup) white wine
500 ml (2 cups) chicken broth
125 ml (1/2 cup) apple cider vinegar
30 ml (2 tablespoons) Dijon mustard
5 ml (1 teaspoon) thyme
Salt and pepper, to taste
Directions
Preheat oven to 180 °C (350 °F).
In a large ovenproof dish, sauté the onions, carrots, and garlic in olive oil for 1 minute.
Add the chicken, apples, squash, and potatoes, and resume cooking for another 4 minutes.
Deglaze with white wine, wait a few seconds before adding the chicken broth, cider vinegar, mustard, and thyme, and then bring to a boil.
Cover and bake for about 30 minutes.
Once the meal is ready, remove the chicken and vegetables from the pot. Set aside in another pot somewhere warm. Put the pot with the remaining sauce back on the stove over medium heat for another 15 minutes.
Right before serving, divide the chicken, apples, squash, and potatoes in four servings, and cover with sauce.
Bon appétit!
By Sophie Blais