Eating Breakfast in order to Lose Weight?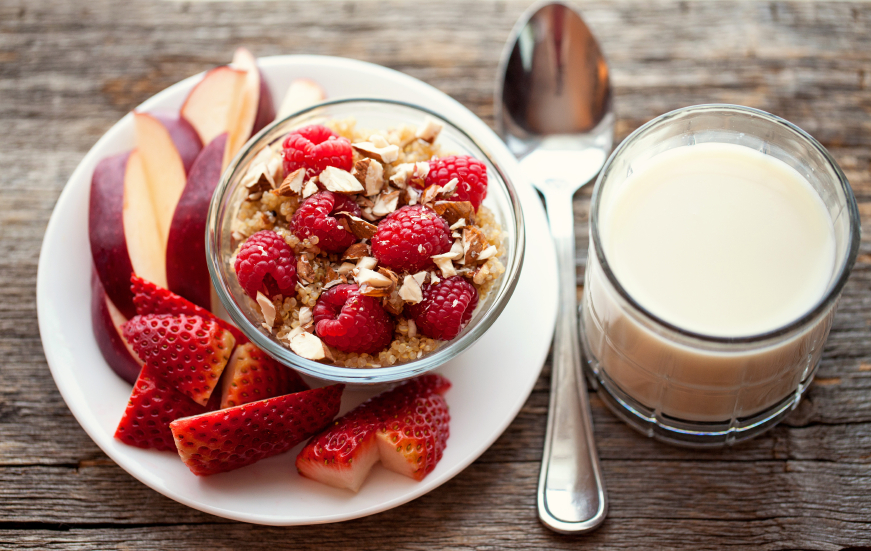 Logically, people are under the impression that the more they cut on calories, the more weight they will lose. Technically, to lose weight it is indeed necessary to consume less calories than we spend, however we must avoid falling into deprivation; the body needs energy in order to spend it! Therefore, the trick is to balance nutrition and choose nutritive foods with a lower energetic value…
The one thing to avoid is skipping breakfast to take a shortcut and reduce your total caloric intake. Haven't you been told over and over that breakfast is the most important meal of the day?
Here are a few points that I hope will persuade you to eat breakfast:
· Eat breakfast and you will burn more calories!
Physiologically, at night the body falls into a state of fasting. While sleeping, the body's functions are slowed down, as well as the metabolism (the amount of calories spent by the body to maintain vital functions). The first meal of the day, by activating the reactions associated with digestion, restarts the metabolism. In addition, by providing the precious carbohydrates (found in grain products, fruits, and dairy products), it will make getting up less difficult, and your morning will be more active. It's not a coincidence that kids who eat breakfast are more attentive in school!
· To avoid your enemies: cravings.
People who skip breakfast, or don't eat enough proteins in that meal, often have cravings or need sugar badly in the afternoon or at the end of the day. Indeed, deprived of nutrients during the beginning of the day, the body will send strong hunger signals to compensate for the deficit created: these famous cravings bring about a consumption of calories equivalent to a third meal, and often even more! Instead, we should eat breakfast, and make sure there is a source of protein in the meal, such as dairy products, or meats and their alternatives (for example, a slice of low-fat cheese or an egg).
For breakfast ideas, I suggest you read the article How to "Break" Fast (French only)  by my colleague Vanessa Martin, with many tips about balancing this meal!
By Marilyne Petitclerc