Bring a friend and save money!
Refer a new member and get your next bi-weekly membership payment free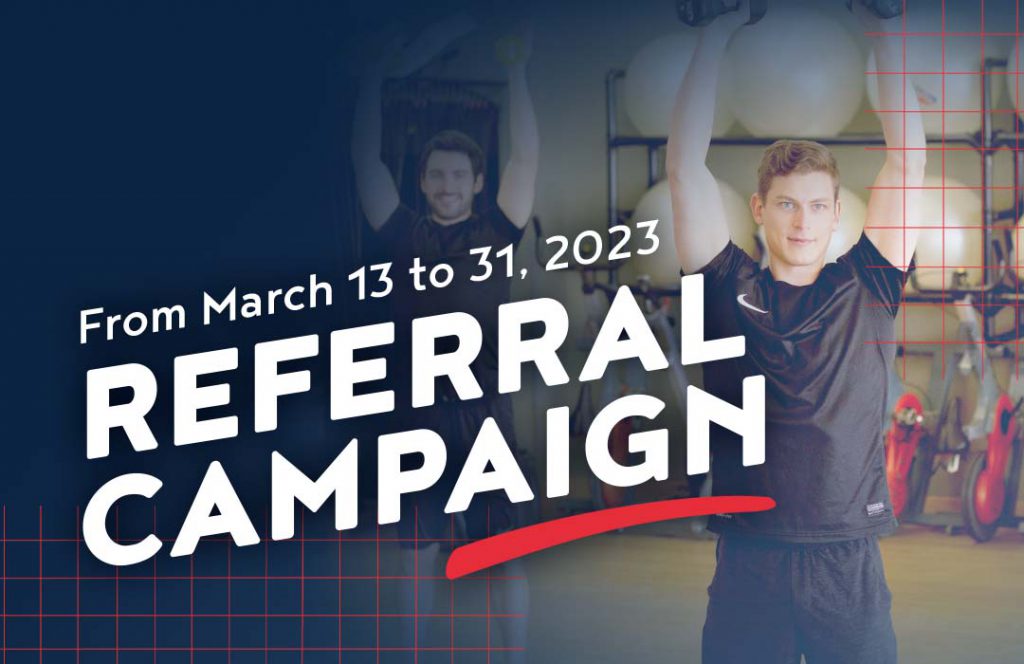 The referral campaign is back! For every new member you refer, get your next bi-weekly membership payment free*!
FROM MARCH 13 TO 31, 2023, INVITE YOUR FRIENDS
AND FAMILY TO DISCOVER THE BENEFITS OF TRAINING!
How does it work?
Invite a friend to experience your Nautilus Plus center;
Your friend signs up for an annual Boomerang membership;
Your next bi-weekly membership payment will be FREE;
Then what? You invite another friend, because there is no limit to the number of members you can refer!
Already finished paying for your membership?
Not a problem! An amount of $25 will be deposited in your account so you can treat yourself to our products and services. It's a win-win!
What do your guests receive?
Your guest also receives a gift: their first bi-weekly membership payment is free of charge! Upon becoming a member, they can then invite a guest and receive two bi-weekly membership payments free of charge, and so on!
Come on, it's time to let your friends and family experience your favourite gym.
See you at the club!
*Certain conditions apply. Offer valid from March 13 to 31, 2023. The sponsor (member) must be present at the time of the guest's subscription to benefit from the offer. The sponsor (member) benefits from the offer each time he/she refers a new member. The referred guest must sign up for an annual BOOMERANG membership. The credit for the bi-weekly payment is made at the time of registration. Sponsor: The sponsor's credit of the bi-weekly payment applies on the next scheduled payment date. If the sponsor has already paid for their membership in full, has a "periodic" membership or has an honorary membership, an amount of $25 will be deposited in their customer account for use on our products and services. The sponsor's membership must be in good standing to benefit from this offer. Complete details available at front desk.
Find my Nautilus
A network of centers across Quebec
Find my gym
Group classes

Unlimited selection of group classes for all fitness levels!
Classes schedule