Body composition analysis
Beyond the measurements taken during your fitness assessment, Nautilus Plus offers you even more advanced analyses to help you learn more about your progress. With the help of two high-tech devices, Bodë and Styku, discover more about your body composition with the details these devices provide to better track your progress and results.
BODË, body composition
Here is BODË. At Nautilus Plus, technology is at your disposal providing essential information on your body composition. Thanks to BODË you obtain, in no time at all, a detailed report indicating your body fat percentage, your muscle mass, your resting metabolism and much more.
Have all your efforts been rewarded? With BODË, you benefit from an additional tool to evaluate the effectiveness of your fitness and nutrition program as well as follow the evolution of your results.
Essential information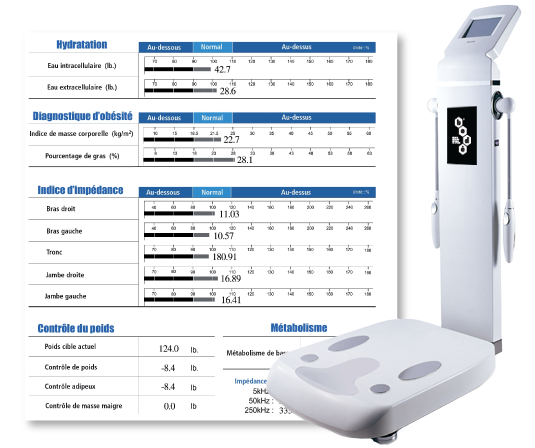 In no time at all, BODË gives you:
Your body fat percentage
Your arms, legs and trunk muscle mass
Your resting metabolism
Your level of hydration
Your body mass index
Your targeted weight
Your ideal body composition for a healthy weight
With BODË you will know the details of your body composition! You will see beyond the number that appears on the scale because you will learn the true story behind your weight loss or weight gain. With BODË, you will closely monitor the changes in your body composition and stay motivated as you notice the real progress you're making.
Starting at $3245
For a BODË Express Test
Find my gym

STYKU, 3D BODY SCANNER
Discover Styku*, a device that revolutionizes the way you measure your progress. Standing on a round platform that rotates on itself, the infrared lights measure your body shape and composition. In just a few seconds, a 3D image of your body is replicated providing key details on multiple body measurements.
Compare your 3D image and quickly see where your circumferences have changed, whether it's at the waist, hips, chest, or other areas.
EVEN MORE PRECISE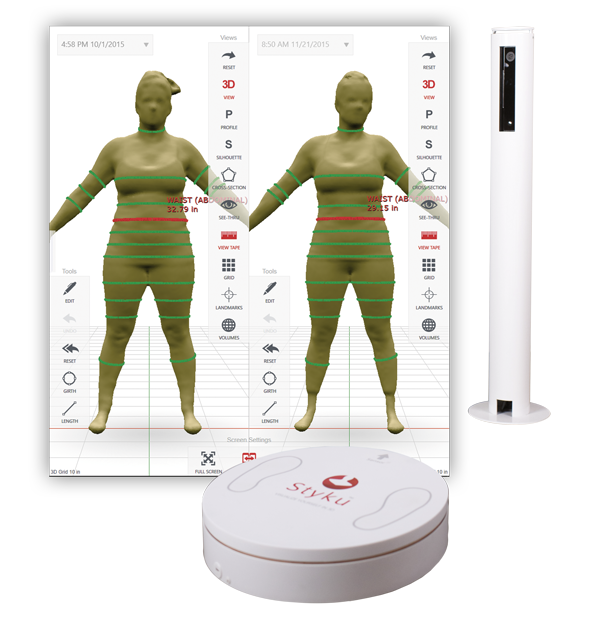 The 3D body scan allows you:
Visualize your body shape
Measure waist circumference, hips, thighs and more
Provide an accurate and reliable measurement of fat percentage
Set goals with the calorie and fat loss counter
Track your real progress
Provide a quick, non-invasive assessment with a harmless infrared light.
There is nothing more motivating than to see your body transform. In only 35 seconds, Styku extracts hundreds of measurements with an accuracy rate of 2 mm and reconstructs your body in 3D.
Starting at $3999
For a Styku Express Test
An evaluation session is sold at $79, and includes the 3D scan, a 30-minute consultation with a personal trainer to present and interpret the findings, and to recommend plan of action.
*The Styku device is available exclusively at the Nautilus Plus Place Montréal Trust location. Call to make an appointment.
Find my Nautilus
A network of centers across Quebec
Find my gym
Group classes

Unlimited selection of group classes for all fitness levels!
Classes schedule