Why Zumba Is So Popular?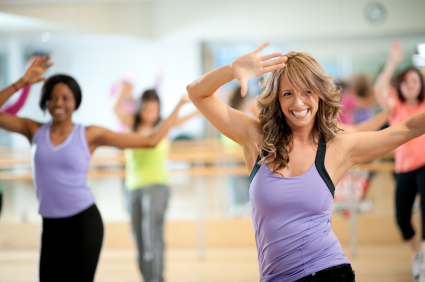 You haven't heard of Zumba yet? With enthusiasts in more than 150 countries, this style of workout is hugely popular! One day, Alberto Perez, the creator of this dance class, and choreographer of several Shakira songs, forgot the music for his aerobics class. No sweat! He simply went on to improvise moves to his favourite latin hits, and to the delight if his participants a new style of dance class was born!
Zumba is first and foremost a "party" where the music inspires the dance movements (including salsa, merengue, cumbia, reggaeton, etc.), which somewhat mask traditional workout moves. The ambiance created by the latin rhythms takes you into another world where you feel like you're dancing rather than exercising!
The classes feature 70% latin and world music, the remaining 30% being up to the instructors. Zumba provides music and choreography, which the instructors use more often than not, but they do have the option of choosing their own songs and moves. I personally believe that the success of this type of class is instructor-dependent, facial expressions, attitude, and talent being major contributors. Zumba can be truly a feast for the eyes! The music will certainly get your hips moving and your heart yearning to move like the instructor. Go at your own pace since the intensity is entirely up to you.
Contrary to traditional group exercise classes, Zumba instructors don't speak, or speak very little. No verbal cues are given for upcoming movement changes. A small hand signal may announce a change, but what will the change be??? First you watch, and then you give it a go! Don't close your eyes for too long though or you may miss something! But like all our group exercise classes, you do the same choreography for a whole session, so you'll have plenty of time to pick up the moves and maybe even add your own style!
Go try some classes to see if Zumba is for you and at the same time enjoy discovering the style unique to each instructor. All Nautilus Plus centres are pleased to offer, among others, these popular classes.
By Karine Larose