Marie-Andrée St-Louis
Weight loss:32,4 lb*
Fat loss:35 lb
[morphslider id=14618 title=false description=false fade=true play=true border=#ffffff position=over]
Age : 30 years old
Occupation : Mental Health Worker
Gym : St-Léonard
Initial weight : 178,1 lbs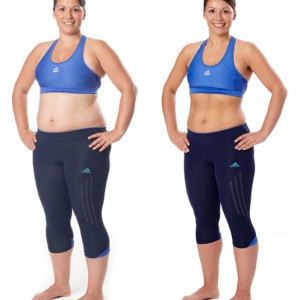 Trainer
Bachelor of Kinesiology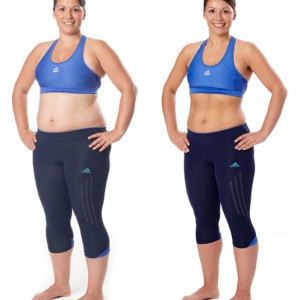 Nutritionist
Bachelor Nutritional Sciences (Dietetics)
Please note that the video is in French only.
For many years, I have been struggling with my extra kilos using questionable and inconclusive diets. Thanks to the Transform program challenge, I regained a silhouette that finally allows me to feel good about myself. I am a naturally positive person but I had become a pessimist. Preparing for a fun night out or looking at vacation photos had become heavy and uncomfortable drag.
In 3 months, I lost 35 pounds of fat. Not water or muscle mass that can be lost with other programs but then as quickly regained, but real, actual fat… And this by eating more than ever; I, who used to switch to deprivation mode once the famous "Monday: Day 1" came around… Long live choosing the right foods and the right portions!
Regardless of what we say, physical appearance plays an important role in a weight loss process, but that regaining self-confidence and getting back in shape is priceless. Such an accomplishment is a great source of pride. Discipline, organisation, and compromise were essential parts of my success, but today I am completely satisfied of what I've gained from it. Now, my training represents not only a commitment I made to myself, but also a necessity.
I really have the feeling that my weight loss will be permanent, because the Transform program allowed me to change my lifestyle instead of opting for drastic changes that are hard to maintain on the long term. I also noted how the "nutrition and training" combination is the key to success.
I was lucky to be supervised by a competent team that paid attention to my needs and motivated me, as well as being surrounded by people who supported me in a thousand different ways. I am deeply grateful to all these people. I know that I am the one who made the results happen, but I feel a lot of gratitude for the opportunity that was offered me, which provided me with the tools to find my balance and take charge. My thanks go to Nautilus Plus and the team from the St-Léonard club.
*Disclaimer: Please note that the results can vary from a person to another.