Marc Chamberland
Weight loss:47,2 lb*
Fat loss:49 lb
[morphslider id=14415 title=false description=false fade=true play=true border=#ffffff position=over]
Age : 27 years old
Occupation : Business Advisor
Gym : Laval
Initial weight : 248,5 lbs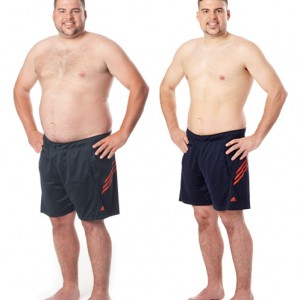 Trainer
Bachelor of Kinesiology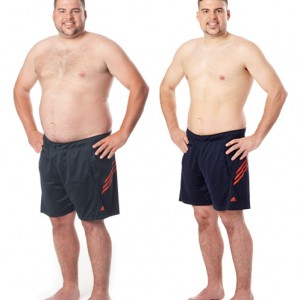 Nutritionist
Bachelor Nutritional Sciences (Dietetics)
Please note that the video is in French only.
I have been overweight all my life. From as far as I can remember, I always loved to eat excessively, and move as little as possible. The result of this combination was that as of August 2013, at 27 years old, in the prime of my life, I found myself weighing in at 250 lb, and my physical condition was deplorable.
On the same date of the previous year, I was completing a protein-based diet (similar to Ideal Protein), on which I lost 41 lbs in three months. However, this style of diet didn't change anything about healthy nutrition. Also, because physical activity was not a part of it, even though my body became less heavy, my overall health didn't improve as it should have.
To make matters worse, what happens to most people following this kind of diet happened to me: I regained the 41 lbs I within three months, along with another 5 extra pounds.
No need to tell you how hard this experience was on me.
I then decided to take charge and get in Nautilus Plus' Transform program. Unlike the previous diet, this time I had a whole team of professionals to back me up. I had a trainer who explained to me all the advantages of physical activity, and supported me in our weekly meetings. I also had a nutritionist who taught me how to read the labels, which foods I should choose and the ones I should avoid, and what it means to have a healthy nutrition. Quickly, combining a healthy nutrition with regular physical activity proved to be effective, and I lost 49 lbs of fat in 90 days.
The best thing about all of this is that as of February 21 2014, more than 3 months after the end of the challenge, my weight has been stable, and fitness as well as physical activity is now an integral parts of my life.
I now have the tools to maintain a healthy weight. Nautilus Plus' Transform program works, because it allows you to understand how you got there in the first place, and enables you to identify the changes that need to be done on the nutritional as well as the physical level, and finally, ensures that you get a professional follow-up to help you reach your objectives.
My only regret? Not doing it earlier!!!
*Disclaimer: Please note that the results can vary from a person to another.