Donald Emond
Weight loss:49,8 lb*
Fat loss:36 lb
[morphslider id=14531 title=false description=false fade=true play=true position=over]
Age : 43 years old
Occupation : Representative
Gym : St-Romuald
Initial weight : 243,4 lbs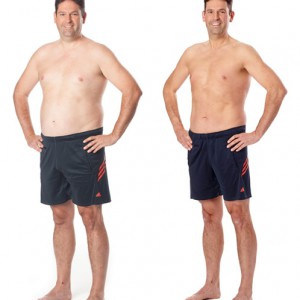 Trainer
Bachelor of Kinesiology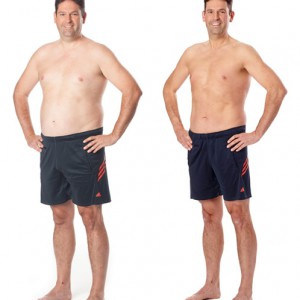 Nutritionist
Bachelor Nutritional Sciences (Dietetics)
Please note that the video is in French only.
It seems as if it was only yesterday that I sent my application to be one of the participants of the I'm Taking Charge 3 challenge. When the challenge began, I knew there would be changes, but I never expected I would get such impressive results. I successfully lost 61 % of my starting body fat without ever being hungry!
Weight loss is a mathematical process: you have to spend more energy (calories) than you consume. When put this way, it sounds really simple! The truth is that it is, but it's not necessarily easy. You have to be diligent, steadfast, and never give up, but what are 90 days out of a lifetime? I have to be honest though, some periods were harder than others. To me, the biggest challenge was to go from "no physical activity" to 1 hour and 30 minutes a day, 6 times a week.
It was hard at first to follow this pace, and even my body didn't want to collaborate; not enough energy, back aches, aching legs, etc. In its own way, my body tried telling me that this was more than a challenge, it was impossible… However, I succeeded, thanks to the support of the  Nautilus Plus team of St-Romuald club, as well as the support of my friends and family.
Now that the I'm Taking Charge 3 challenge is over, it's time for the Staying in Charge challenge, and I am also satisfied of my success on that front. Of course, you have to really want it, but I feel like I have all the right tools to keep going, maintain what I've gained, and stay fit and full of energy.
Thank you Nautilus Plus for this new life!
*Disclaimer: Please note that the results can vary from a person to another.