My top 4 lunch condiments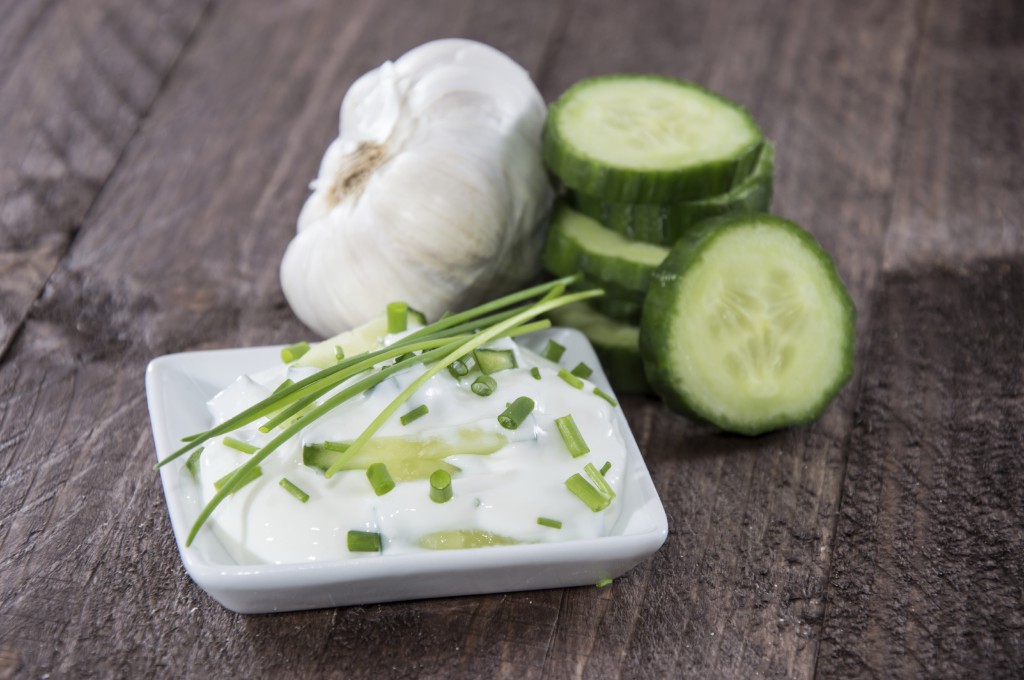 Are you tired of the typical mustard sandwich for lunch? Are you running out of ideas for snacks? Here are four new condiments that you can include in your diet to make your lunch break exciting again!
How to use the condiments
Dip for raw, baked or broiled vegetables
Spread for whole wheat crackers, pita bread
Add in wraps, traditional sandwiches, bagel pita sandwiches, burgers
Combine with oil and vinegar and use as salad dressing
Sauce for beef, chicken, fish, seafood
Add to meat alternatives: tofu, beans, tempeh, eggs
My favourite condiments
Baba ganoush
This delicious Middle Eastern condiment is made with eggplant, tahini and lemon juice. Additional seasonings are sometimes added, such as: garlic, olive oil, mint, parsley, and a variety of spices. At first, many of us are hesitant to try an eggplant condiment, but I can assure you that you will be pleased!
My favourite lunch: Whole wheat pita with baba ganoush, falafel and your favourite vegetables
Tzatziki
Made with yogurt, cucumber, garlic, lemon, and dill, this Mediterranean condiment always adds a refreshing taste to lunches. Make sure you buy tzatziki made with yogurt, and not sour cream. Try the greek yogurt tzatziki, it's a new and tasty option!
My favourite lunch: Greek style chicken
Hummus
The traditional hummus is made with chickpeas, tahini and lemon. Since there are many different varieties to try – roasted red pepper, roasted garlic, roasted onion – you are bound to find one that will make your taste buds tingle!
My favourite lunch: Whole-wheat sandwich with red pepper hummus, roasted red peppers, avocado and feta cheese
Pesto
Pesto contains olive oil, pine nuts, parmesan, garlic and basil. It is one of my personal favourite condiments because it can be added to practically anything to enhance the flavour. Keep your portion size to 10 ml since it's relatively high in calories.
My favourite lunch: Pesto, chicken, and grilled vegetables pasta
Make your own condiment
Here are a few links to articles my colleagues wrote about making your own healthy dips at home.
How do you use condiments in your cooking?
By Alyssa Fontaine, nutritionist