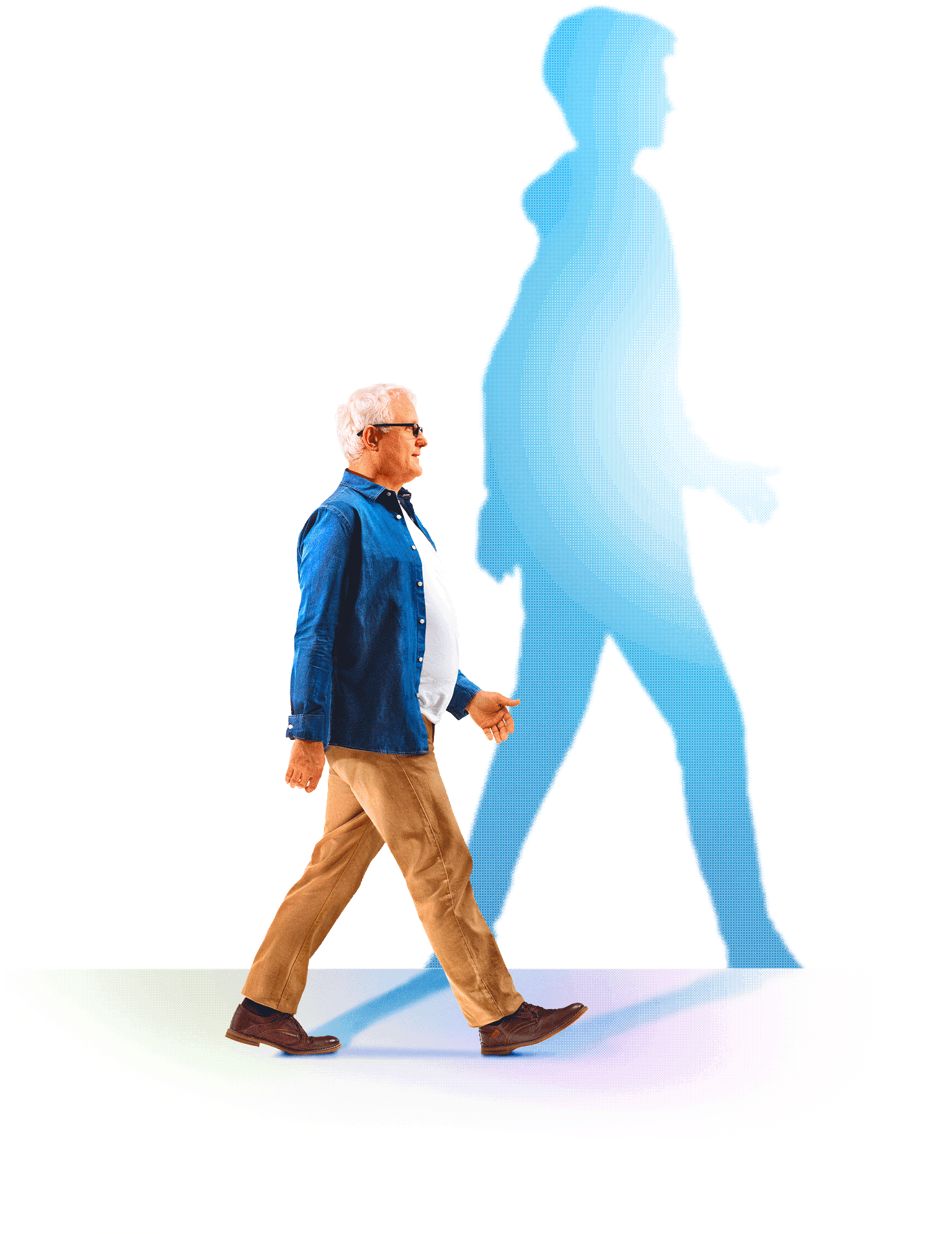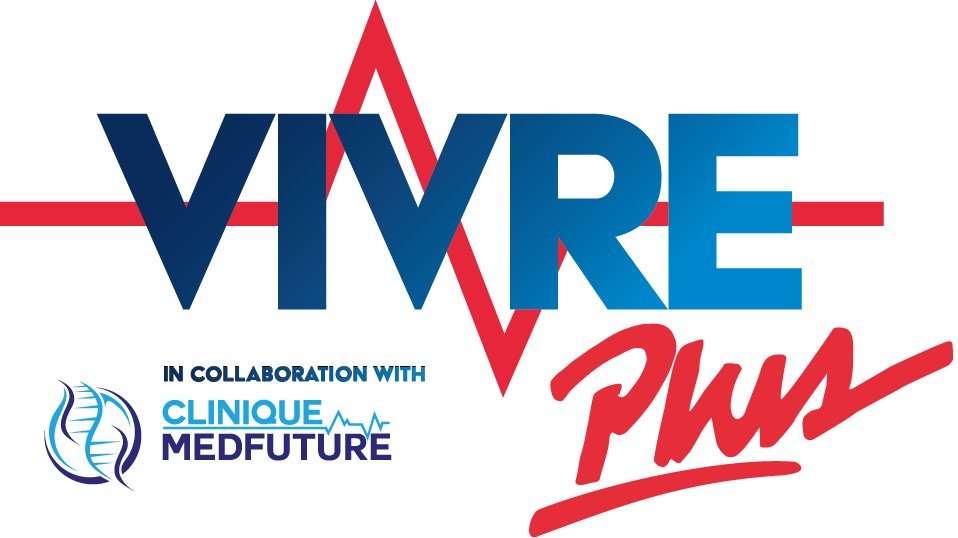 GET 2 MONTHS FREE ACCESS
With the purchase of the Vivre Plus Solution!
Discover the Vivre Plus Solution, an innovative approach that combines the expertise of Nautilus Plus kinesiologists and nutritionists with the health professionals of the Medfuture clinic to offer you a more complete approach. Plus, get two months of free access to Nautilus Plus facilities, to give you the winning conditions to live better and longer.
What is the Vivre Plus Solution?
This multifaceted approach combined with the use of new tools allows us to properly assess your health status in order to better guide our recommendations. Are you just starting out in the gym?  You can rest assured that we will work at YOUR pace, respecting YOUR fitness level, YOUR goals and YOUR state of health. We will accompany you throughout the process of improving your quality of life, to better control a specific issue and even to prevent future health problems.
With the Vivre Plus Solution, you will have the winning formula to improve your health and well-being.
Who is the Vivre Plus Solution for?
For all those who:
have never set foot in a fitness center.
wish to better control their specific conditions such as diabetes, cardiovascular problems, arthritis, osteoarthritis or other.
wish to relieve minor physical ailments that have developed over the years.
are preparing for retirement or are already there and want to make the most of it.
wish to know more about their current overall health status with physical, physiological and cognitive assessments.

Who is Medfuture?
Medfuture is a private clinic with a vision of longevity. Medfuture's approach to preventive medicine is unique in Quebec. Their proactive health assessments combine medical science and innovative technologies. They allow the healthcare professionals to orient their recommendations and establish a personalized action plan in collaboration with Nautilus Plus.
Packages available
La Solution Vivre Plus offers different packages, whether you are a Nautilus Plus member or not. Depending on your status and your needs, these advantageous packages include various tests and evaluations, sessions with a nutritionist and kinesiologist that vary according to the extent of the support you are looking for. Virtual clinical consultation with a Medfuture health professional are extra.
The physical health assessment enables us to establish a contact with the member, to obtain a view of their physical condition and to establish a global health profile. In addition to the Vivre Plus Questionnaire, which is completed with the kinesiologist, the physical health assessment includes several different evaluations*:
Blood pressure reading
Assessment of cardiovascular condition
Body composition analysis by bio-impedance
Assessment of muscular condition, including: upper and lower body strength, mobility and stability, balance and stability, upper and lower body flexibility, postural analysis.
*The kinesiologist determines which assessments are most relevant to the person's condition and needs.
This innovative test is designed by the medical team of the Centers for Age Control, an American organization specialized in the non-invasive evaluation of age related changes. The test lasts approximately 20 minutes. It is comprised of six tests, with the use of a mobile application, that challenge memory, hearing, decision making time, reaction time, speed of movement and coordination. Once completed, a vitality index in comparison with age is determined.
The test is performed in our Nautilus Plus centers.
This virtual meeting takes place in the comfort of your own home or at the Nautilus Plus center of your choice. During this 15-minute medical consultation, you will meet with a healthcare professional (a specialized nurse practitioner) in order to discuss:
your medical history;
the results of the Vivre Plus Questionnaire;
the results of your Vitality Index Analysis (if applicable)
the physical health assessment (if applicable);
The health professional will then suggest measures that can be applied to improve your health.
Virtual consultations are conducted via a secure telemedicine platform approved by the Ministry of Health and Social Services (MHSS).
This one-hour nutritional consultation with a Nautilus Plus nutritionist is conducted either in a Nautilus Plus center or via video conference. The objective of this meeting is to make a brief assessment of your eating habits and to suggest dietary recommendations to improve your overall health.
During the medical video consultation, if the health care professional deems it necessary, blood tests can be suggested. The blood sample can be taken by a nurse at your Nautilus Plus center. The results will be sent directly to you as well as to the physician.
Vivre Plus services offered to new members
In addition to the above-mentioned Vivre Plus services (the Physical Health Assessment, the Nutritional Consultation, the Vitality Index Analysis and the Medical Video Consultation), the new member also benefits from several other services and additional support depending on the package chosen:
8-week access to Nautilus Plus facilities with access to all the workout platforms, including group classes.
8-week access to the Ultime Fit online training and nutrition platform, including training videos of the Vivre Plus program.
Customized training program and follow-up sessions by a kinesiologist following the results of each test.
Follow-up sessions with the nutritionist following the results of each test. These sessions can be held in person or virtually.
"Discovery" sessions by the kinesiologist whose objective is to accompany/familiarize the new member with the different activities at the center, to allow them to discover the different training platforms, to learn about group classes, to learn more about relaxation methods, etc. The nature of these sessions is established between the trainer/kinesiologist and the member.
To start the Vivre Plus Solution
Contact us
Interested in getting started with the Vivre Plus Solution OR want to learn more about the Vivre Plus Solution? We will gladly contact you. Please fill in the following fields and click on SEND.
Find my Nautilus
A network of centers across Quebec
Find my gym
Group classes

Unlimited selection of group classes for all fitness levels!
Classes schedule