Take your measurements and keep track of your progress!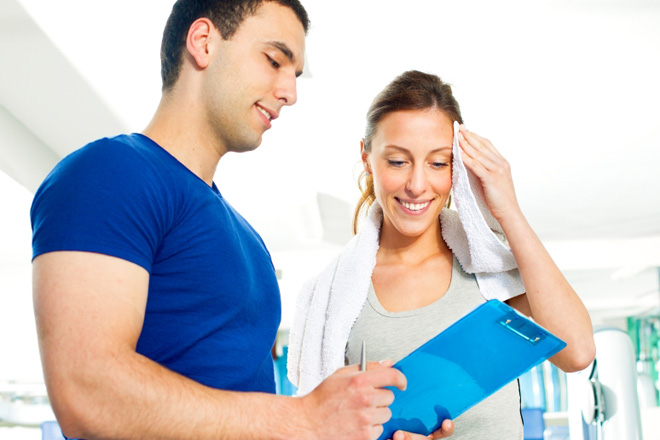 As explained last week in Martin Lacharité's blog post on the importance of changing your workout program on a regular basis, the body has the capacity to rapidly adapt to any effort (such as working out). This adaptation results in an improvement of the general physical condition. If seeing results is what motivates you, make sure you take your measurements when you begin a program, so you'll be able to follow your progress.
One of the best ways to get a picture of your current condition is to get an evaluation of your physical condition. The personal trainer who will be put in charge of your evaluation will take different measurements and provide you with specific results regarding different aspects of your physical condition. This evaluation will give you an overview of your starting point.
The different aspects that can be evaluated are: cardiovascular endurance (with an exercise test), grip strength, leg strength, muscular endurance of abs, arms, and back, body composition by measuring skin folds, circumference of arms, waist, thighs, and other body parts, flexibility, and blood pressure. Other statistics can also be provided, such as: quality of lifestyle, perception of physical activity level, weight, body mass index, body fat and muscle percentage with the bio-impedance measurement device, basal metabolism, and more. In short, the vast array of high-tech equipment and tools that are presently available in fitness clubs allows beginners as well as would-be athletes that wish to improve their performance to gather information regarding aspects that need to be improved.
Make sure that you also evaluate other aspects of your current quality of life, such as your energy level, the quality of your sleep, your stress level, the quality of your food, your current alcohol and sugar intake, etc. Because each reference point makes a difference, make sure you have more than one. You will multiply your chances of witnessing at least one improvement, which will help you stay motivated and keep you going.
Regardless of the nature of your results, use them as a starting point to be able to judge your progression better.
Which aspect of your progression motivates you the most?
By Karine Larose