Sylvie Pineault's Transformation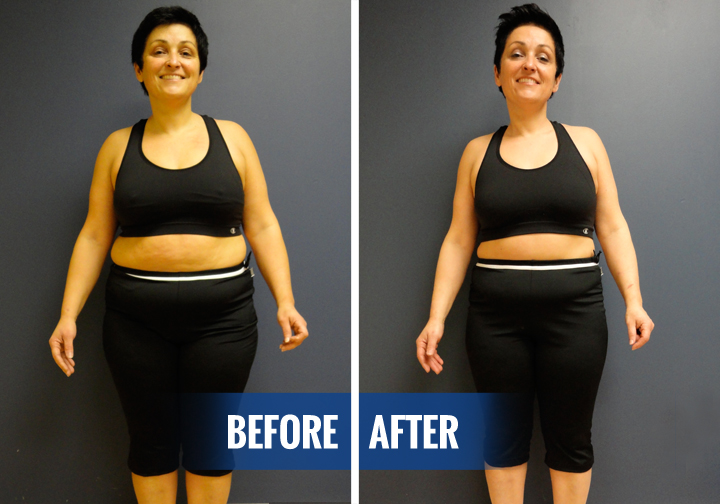 Sylvie Pineault, 46 years old
Start: 185 lb / End: 160 lb
Weight lost: 25 lb at the end of the program and 33 lb to this day*
Personal trainer: Martine Parent
Nutritionnist: Mido-Ahmed Fath-El-Bab
Center: Rockland center
I've been fighting with my weight since the age of twelve. My happiness depended on being slim. I've done several kinds of diets; I would lose weight, but gain it all back right away.
It must be said that food has an important place in my life since I am a chef who is passionate about her work. I have always found comfort and pleasure in food and cooking. To be fully satisfying, all of my activities had to be related to food somehow… So I had to find a way to change this.
I thought of different ways to reach my healthy weight. I got my answer when I saw the ads for the Transform program. I knew that combining sport and healthy eating was the secret. This option came at the right time in my life.
When I registered, the adviser asked me what was my weight loss objective, and how many times a week did I expect to go to the gym. When I told him two to three times a week, he looked at me with scepticism and told me that would be the minimum required to get to my objective of losing 25 pounds. To my own surprise, despite my extremely physical days at work and my tiredness, I persevered and went to the gym 5 times a week. I finally reached my objective! My perseverance is one of my greatest achievements, on top of my weight loss.
Without the help of my super kinesiologist Martine, my nutritionist Mido, and the encouragements of the staff at the Rockland center, I wouldn't have succeeded.
1. Why did you want to transform yourself?
I had been thinking about it for years, without success. I couldn't look at myself anymore with this extra weight, and this lack of energy and self-esteem. I needed to regain my pride and get back in shape. Also, being almost fifty, I knew it would become harder and harder.
2. What was the hardest part of your transformation?
Not letting myself being discouraged by tiredness, and the stress of performance, i.e., reaching my objective in time. But this stress also helped stimulate me. I want to point out that there is also an important psychological aspect to it. We eat for many reasons; we need to dig within ourselves and find the "why".
3. What motivated you the most?
The results, of course! Seeing how my physical condition improved. The positive comments of my friends and of the staff at the Rockland Nautilus Plus center. The encouragements of my kinesiologist Martine and my nutritionist Mido.
4. What did this transformation accomplish for you?
Getting my pride back, and the great improvement in my physical condition.
5. What difference did your personal trainer and nutritionist make?
An incredible one! I couldn't see myself getting through this transformation without their help and knowledge. I learned a lot, as much about nutrition (even though I thought I knew everything) as training. It makes the process so much more dynamic and adjusted than when doing it alone. I am still working with them since the conclusion of my program, and even though we meet less frequently, it is still necessary to reach my final objective.
6. And today, how do you feel, and what are you planning next?
I feel very good and am in great shape. I still have about fifteen pounds to lose to reach my objective, which I am doing in September. It won't be easy. I took a little pause this summer, working mainly on maintaining my weight, which is not that simple. But when what feels natural is driven off, it comes back at a gallop; we have to keep exercising and make sound nutritional decisions. Some habits have to be eliminated, and these changes have to last forever!
*Disclaimer: Please note that the results can vary from a person to another. Nautilus Plus is not responsible of the validity of the statements in this testimonial.