Staying in shape on vacation: how to keep up the good work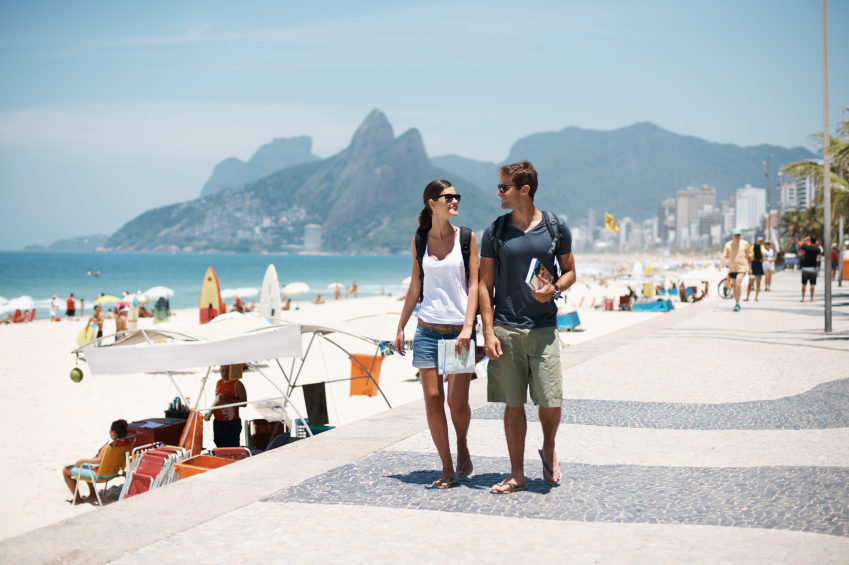 Vacation time often rhymes with total rest, even from your training sessions. Indeed, you can use your vacation to take a break from structured exercise, but this can also be the ideal time to discover new and different physical activities. By staying active during your vacation, you'll stay fit and have better control over your weight. You'll also see that certain physical activities can provide an original way to get to know your destination. If you are planning a trip this summer, here are a few simple ways to combine fitness and pleasure.
Destination: Beach. Walk and enjoy water sports
Take long walks in the sand, barefoot, with the sea to refresh you each time a wave washes over your feet―utter bliss! This activity can be done by all. Not only does it provide physical benefits, it also gives your morale a boost! It's amazing how walking in sand, particularly dry sand, burns even more calories. The constant effort to keep your balance activates lots of small muscles in your legs and elsewhere, and this increases energy expenditure as well as speeds up the reaction time of the same muscles! Aim for a decent pace with a view to increasing your heart rate while enjoying the scenery. You will double the benefits!
Give in to the temptation of surfing, swimming, and snorkeling! Surfing calls on almost all the muscles in the body. Even if you don't succeed in standing up, just falling and trying to get back up again is very physically demanding! As for swimming, it provides excellent low impact cardio. If there's a pool at your hotel, do a few lengths to set your day off on the right foot. Though snorkeling is less energetic, it is a pleasant way to discover the wonders of the seabed. Aim at intensifying your activity by swimming faster!
How about hiking? Enquire about the trails in the area and plan a morning or afternoon hike. Bring a lunch with you and contemplate the view while enjoying a picnic. Each time you walk uphill, the number of calories you burn will increase, as will the health benefits. Let your shortness of breath guide intensity. Don't forget to bring along water, and take the time to admire the scenery!
If you visit a city
Walking is obviously the perfect way to get your workout while visiting a city. Or you could fit a short morning jog into your schedule. While doing so, you'll get a good idea of what the day has in store for you and even come across a restaurant for lunch or supper.
Also think about renting a bike. Bike rides are another physically active way to explore a region. The intensity can vary from low to high depending on pedaling speed and terrain (flat or hilly).
Be active in the morning
So you're not sure you'll be able to fit physical activity into your trip? How about scheduling at least three more structured workouts on certain mornings? To complete your training, pack a few accessories, like exercise DVDs, tubing, a Swiss ball with pump, and even water bottles that you can fill to use as weights to get the most out of your resistance exercises. Don't forget your running shoes!
Have fun and relax while staying fit: of course you can!
You may be tempted to take a break from training while on vacation. A well deserved break can even be good for your body. On the other hand, stopping all physical activity for a whole week or more will have consequences… your return to training will be harder!
If you have a sedentary lifestyle, a trip can be the ideal time to discover a physical activity you like.
So, on vacation, be active with a difference! As well as recharging your batteries, you'll stay fit, and the return to your daily routine will be easier.
Enjoy your trip and a have great vacation!
By Karine Larose