Promote Your Intestinal Regularity
Many people suffer from occasional or chronic constipation. Dehydration, lack of fibre, physical inactivity, or hormonal changes are all possible causes of this phenomenon. Here's some advice to help you feel lighter!
The famous fibre
Fibre plays an essential role in intestinal transit by regulating the stools' transit time and consistency. The recommended daily intake is between 21 and 38 g.[1]
There are two types of fibre: soluble and insoluble fibre, each with a different purpose. Insoluble fibre promotes intestinal transit.
Wheat bran, vegetables such as cauliflower, spinach, and turnips, as well as legumes, nuts, and seeds are high in insoluble fibre.
Prunes are known for their laxative effect, which is due in part to the fibre they contain, but also to a substance named dihydroxyphenylisatin, which is said to stimulate peristalsis (muscular contractions in the digestive system)[2].
Stay hydrated
We often forget to stay well-hydrated, because the brain sends a thirst signal only when we are already dehydrated. Therefore, it is important to drink as soon as possible.
It is recommended that we drink between 1.5 to 2 L of water per day for women, and 2.5 to 3 L for men, without taking into account the amount of water consumed during training. Here are some tips to increase your water intake:
Keep a glass or bottle of water near your bed, and drink as soon as you wake up.
Always keep a bottle of water handy. When at work or in school, aim to drink a minimum of 1.5 L by calculating how many times you refill your bottle.
Add flavor to your water by infusing fruits or other foods, such as slice of lemon, oranges, cucumbers, lychees, spearmint, etc.
Carry a bottle of water everywhere.
Drink lime, lemon, or grapefruit-flavored carbonated water.
And most importantly, be active!
Physical inactivity is also associated with constipation. When you are active, some movements activate the abdominal muscles, therefore contributing to peristalsis.
Typical daily menu to promote regularity: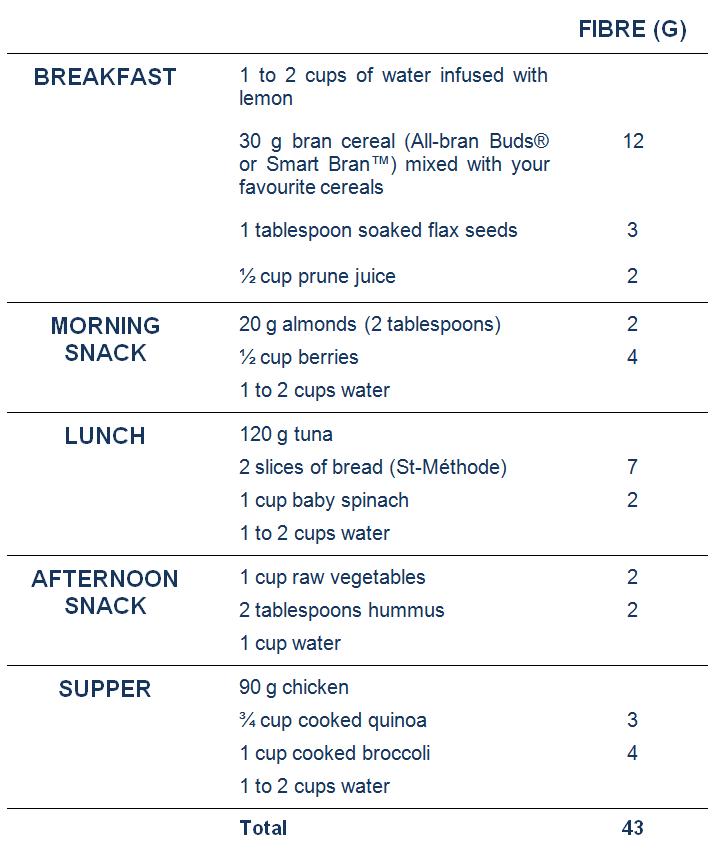 Keep your gut healthy!
By Karine Séguin
---
[2] Manuel de nutrition clinique- Ordre professionnel des diététistes du Québec (OPDQ)-«Gastroentérologie/Constipation». Online. <www.opdq.org>.