Mini-Challenge #9: Include whole grains in each of your meals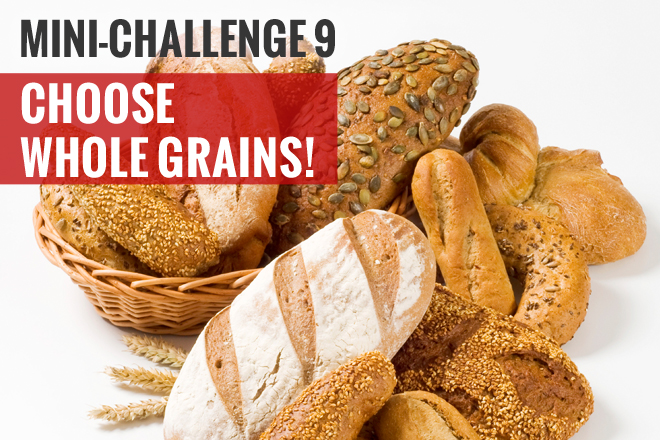 Choose whole grains!
I know, I know, a nutritionist talking about whole grains is a cliché! Personally, I love them and make sure to tell all my clients, but if you are like most of them, you have a hard time getting a minimum of 2-3 servings a day.
First of all, you should know that these famous grains have many uses. For example, by helping you to:
Increase your daily intake of fiber. Because they are filling, they will help you reduce your serving size without feeling hungry, and help fight the symptoms of constipation.
Increase your daily intake of vitamins, minerals, and antioxidants, including iron and vitamin B complex, both of which play a role in maintaining energy levels.
Reduce muscular cramps, and maximize your workouts by providing you with phosphorus and magnesium.
Reduce your cholesterol, improve your blood sugar, lower your blood pressure as well as risks of certain forms of cancer, and much more!
So this week, I challenge you to include whole grains in each of your meals!
Here are a few tips to spot them:
Make sure that you can find the type of grain on the label, along with the word "whole" (i.e., whole oats, whole rye, whole corn, etc.).
You should know that whole wheat products and other derived products are not considered to be 100 % whole because a part of the grain is removed during transformation. Instead, look for "

whole grain

whole wheat flour" or "integral whole wheat flour " on the labels of your bread and pasta!
Beware of "multigrain" products which can contain various cereals, but not necessarily whole grains.
…as well as a few other tips to help you fit them into your day:
Begin your day with gruel or whole-grain cereals.
Choose a whole grain English muffin, bagel, or tortilla for your lunch sandwich.
Add whole grain couscous, bulgur, wild rice, or barley in your salads and/or soups.
For supper, substitute your ordinary pasta with whole wheat pasta (for a less radical change, you can do 50/50), or, even better, opt for variety by trying new grains, such as amaranth, bulgur, millet, quinoa, spelt, or triticale.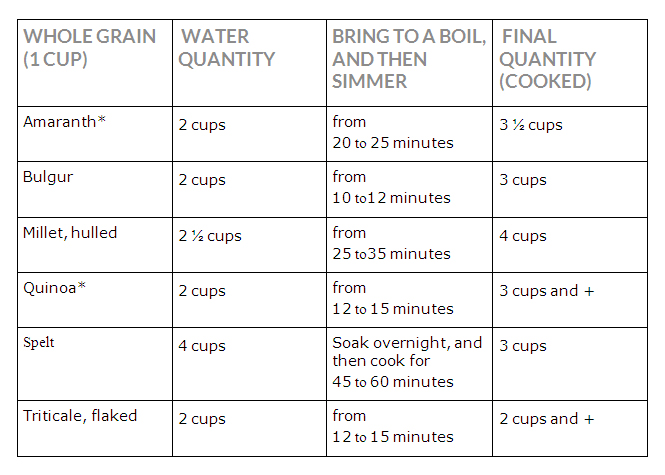 One last tip, don't forget to drink enough water, if you want to avoid funny situations related to intestinal gases!
Have a great challenge!
Alina Petre, P.Dt.
Reference:
https://www.eatrightontario.ca/fr/Articles/Cuisine-preparation-des-aliments/Cuisiner-avec-des-grains-entiers.aspx