Mini-Challenge # 7: Fill half of your plate with Vegetables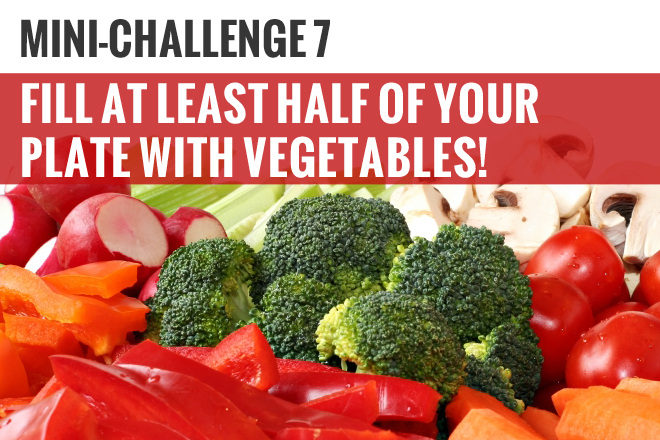 Vegetables!
I know, I know, a nutritionist promoting vegetables sounds a little bit cliché!
We all know we should add more color to our plate (and no, I am not talking about ketchup), and that vegetables contain thousands of vitamins and minerals that present a whole range of benefits, from improving our vision and strengthening the immune system, to satiety and a healthy glow.
But if you are like most people, you may have a hard time eating a minimum of 4 servings a day. So this week, your challenge will be to fill at least half of your plate with this food group that is bursting with colors, for dinner as well as for supper!
N.b. There is no right or wrong way to include vegetables into your daily routine. Raw, cooked, in salads, dips, soups, or as juice – use any possible means!
Here are 3 vegetables to try next week.
Cabbage
Full of vitamin C and indoles, this vegetable has cancer-fighting properties. This cruciferous vegetable can be enjoyed in many ways, such as: salads, kale chips, sauerkraut, soups, boiled, or cabbage rolls!
Winter squash
 Buttercup, butternut, acorn, spaghetti… This vegetable is full of vitamin A, which will improve your super night vision! Try it in soups, pureed, as a substitute to fried potatoes or pasta, or even as dessert (sweet potato brownies? Yum)!
Beet
Beets will help you fill up on calcium, magnesium, and potassium. They will also help you control your blood pressure.
Enjoy it in salads, or even cooked or marinated as a side dish. Most importantly, do not discard the leaves! Sautéed in a little bit of olive oil, they can be delicious!
Now, it's your turn to speak! Tell us what your favourite vegetables are, and what inspires you to eat them on a daily basis?
By Alina Petre