Mini-Challenge #6: Perform the abdominal plank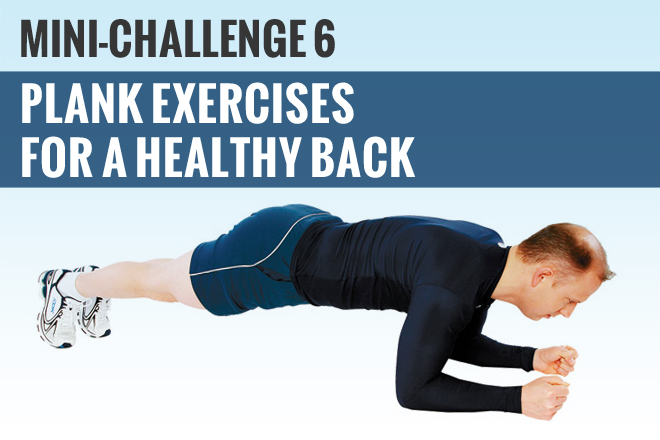 Some ideas within the fitness world are firmly established, despite their lack of scientificproof. Among the most popular exercises the good old crunch is often found at the top of the list.
People want to improve their silhouette, and they believe crunches will help them reach this objective. We often hear the argument that "strengthening the abdominal muscles in this manner protects the integrity of the back muscles." This is both right and wrong at the same time. While it is true that improved strength in the stabilizing muscles of the trunk (through isometric holds) will help prevent some problems in the muscles of the back, it is incorrect to think that traditional crunches will help you develop core strength. Which brings us to the mini-challenge  # 6.
Mini-challenge # 6: Up until the next challenge, you will have to perform the abdominal plank three times a week: 3 sets of 30-60 seconds, with 45 seconds of rest between each set.
If you feel pain in the lower back area, try to relax, and slightly tilt your pelvis to reduce the arch in your lower back. If the exercise becomes too easy (once you can hold the right position for more than one minute), use the same position for the next set, but put your elbows 1 cm further away from your toes. You will already feel the difference.
WHY THE PLANK?
From a health perspective, functional exercises are the way to go in most cases. An exercise is said to be functional when it aims to strengthen individuals and help them accomplish everyday tasks with more ease.
If we use the example of crunches once again, we can quickly realize that they do not match any other movement we perform in our daily lives. We can therefore understand how they do not fit in the functional category.
However, everyday you face situations where your abs need to be strong without generating movement. For example, although you may be unaware of it, your abs will be solicited every time a resistance is used against your upper body (such as when pushing against an object,). The power that is generated will also need to be sufficient, in order for you to be more efficient in your movement. The abdominal plank is the equivalent of pushing against a wall from a standing position, while maintaining the back in a neutral position. Since pushing against an object is a movement we use in everyday life, we can therefore understand that the abdominal plank is a functional exercise, and that its benefits are directly transferable to everyday life. It should also be noted that this exercise works both the rectus abdominis muscle, and the deep muscles that are responsible for improving stability, as opposed to crunches, which do not stimulate these muscles.
With a healthy back, and strong abs to help keep it away from harm's way, you will be more at ease when moving through your daily life.
By Xavier Jutras