Mini-Challenge #3: Better hydration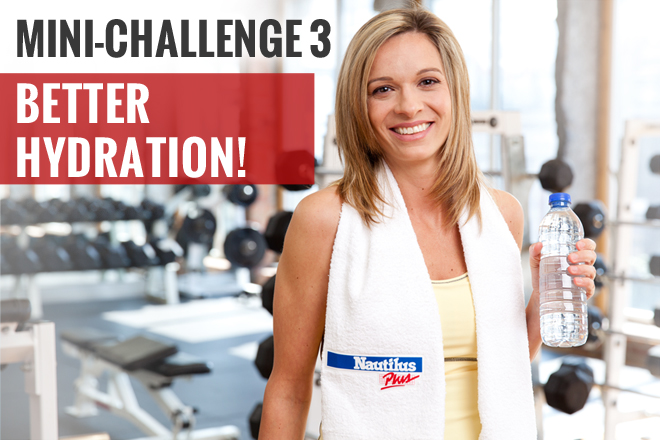 I drink, he drinks, we drink, so drink!
It's a well-known fact that the human body is made up of water (around 50 %, to be specific), but did you know that we can only survive for 7 days without drinking, while we can survive up to 60 days without eating?
Therefore, a better health begins with better hydration, and those of you who will complete this challenge will have a few advantages in common, including:
More energy (including during your workouts);
Better concentration;
A reduction of sweet or salty cravings (indeed, often we think we are hungry when we really are thirsty);
A reduction of headaches;
A better-looking skin.
So, without further delay, your challenge for the week will be to drink a minimum of 1.5 l of liquids per day for women, and 2.5 l for men.
At first glance, it can seem hard to drink such a quantity. One trick you can use is to spread it throughout the day. You could put a pitcher of Brita water in plain view on your desk to make sure that you drink out of it as the day goes by.
Breakfast: Make sure to include a hot beverage, such as 1 cup of coffee, tea, or herbal tea, as well as one cold beverage, such as 1 glass of water, milk, or juice. However, remember to limit your consumption of coffee or tea to 2 cups a day.
Lunch and supper: Think about drinking a glass of water or eating a soup with each of these meals, and add a cup of herbal tea after.
Snacks: Don't forget to take a short break with a cold beverage around 10 AM and 3 PM.
And if water seems too plain to you, why not choose carbonated water, or even flavour your water with a few citrus wedges, frozen berries, spearmint, or a few drops of natural essential oil?
And you, what are your favourite tips to stay well hydrated?
By Alina Petre, P.Dt., Nutritionist